One of the worse things that can happen when camping is to have water seeping through the seams of your tent as you attempt to enjoy the wild for a few days. That's when it becomes pretty vital to know how to waterproof a tent, which is precisely what we'll be covering in this guide.
When planning a nice time with family and friends in the outdoors, there are essential skills you may want to learn to be as prepared as possible; one of them is learning how to waterproof a tent. If you are currently thinking about going camping, knowing how to waterproof a tent could be the difference between having a pleasant camping experience and one where you can't wait for it to be over.
After all, camping doesn't mean you have to sacrifice comfort entirely; instead, you need to have some basic knowledge and proper gear to make sure you have everything you need to feel as comfortable as possible. Whether you are an experienced camper or a first-timer, doing some research is always the smartest thing to do. Keep reading and learn everything you need to know about how to waterproof a tent the right way.
How to Waterproof a Tent FAQ's
Why does a tent leak when you touch it?
While the tent's fabric can prevent that water from entering the tent, the oils and pressure from your contact break that surface tension once you touch the tent. This causes the moisture to pull through the surface and begin to leak.
Should you waterproof your tent?
Tents should be waterproofed whenever they're showing signs of failure. This could mean that water is seeping in through the seams or that you notice peeling on the inside of the tent.
How often should you waterproof a tent?
The waterproof coatings on your tent should last a while, so if you've only just bought it, then you shouldn't need to apply any other coating.
It may become visibly noticeable that the coating on your tent is flaking off, at which point it will need reapplying. The best way to check is to test it yourself using a water spray. If the water doesn't bead on the outside, or you notice it soaking through at some places, then it could do with reproofing.
What is the best waterproof material for tents?
Nylon and polyester are inherently water-resistant in most weaves used for tents. Mylar composite, however, is intrinsically fully waterproof by itself (which is considered one of its major advantages as a material). To make nylon and polyester waterproof, generally, silicone is applied in the factory.
How long do tents stay waterproof?
As a rule of thumb, if you're using your tent on average for 2 or 3 weeks a year, then proofing it every couple of years should make sure it maintains its waterproofness. If you're willing to play it by ear, wait until it starts to leak, then do it.
How to reseal seems?
Where the different parts of fabric have been stitched together is a prime spot for water to leak in, so you must ensure the seams are well sealed. Like the rest of the tent, seams should have a waterproof coating, but this will wear away in time. Some seams may also have flaps covering them to protect them further.
Choose a dry day outdoors or somewhere indoors, such as a garage, where you can apply the proofing materials and leave them to dry.
Set up your tent, you will seal the seams on the inner side of the tent and underside of the flysheet, so it's easier if you turn the flysheet inside out to make it easier to access.
Carefully clean the seams using rubbing alcohol and a soft cloth or sponge, removing any peeling bits.
Apply seam sealer as per the instructions on the product. Ensure you get the right type of seam sealer – polyurethane-coated materials need different seam sealers to silicone-treated ones.
Leave to dry.
Do you waterproof the inside or outside of a tent?
Coat your tent with a waterproofing spray (DWR). You need only spray the outside of the tent, as the coating will soak into the fabric and bond with it as it dries. Ensure that you cover each tent area and don't leave any material untouched.
Can you waterproof a cheap tent?
There's indeed a good chance that your tent won't be truly waterproof. Inexpensive tents may be just fine for fair weather outings. The Nikwax will boost your tent's water repellency and prevent the fabric from being damaged by prolonged exposure to the sun.
Can you Scotchgard a tent?
Use Scotchgard Heavy Duty Water Shield on fabric patio furniture, sporting gear, boat covers, backpacks, tents, outerwear, and leather.
How to check a tent for leaks?
On a sunny day, set your tent up. Make it fun by setting up in the backyard with the kids.
Grab the garden hose and turn the nozzle to a fine mist spray.
Spray the tent with the kids in it. They are your little tent spies scouring the inside for any sign of leaking along the seams or seeping through the walls.
How to reapply the DWR coating?
Make sure the outside of your tent's flysheet is clean, spraying it down with water if necessary – you don't need to wait for it to dry.
Apply tent waterproofing spray evenly over the fly.
Wipe off any excess coating with a soft, damp cloth.
Leave to dry.
How to reapply the urethane coating?
Layout the material on a dry, flat surface.
Carefully scrub off the bits that are flaking.
Apply a thin coating of tent sealant as per the product's instructions. Again, make sure you get the right type of sealant for your tent.
Leave to dry for at least 24 hours.
How to Waterproof a Tent
A tent can leak in three areas, the seams, the fabric, and the rain fly.
How to Seal the Seams of Your Tent
Pick an area where your tent can dry without being disturbed; you may even want to do this inside if you've got the space.
Make sure the seams are completely clean and dry. If the seams appear a little dirty, then gently clean with a damp cloth or some rubbing alcohol and leave to dry. If you notice significant peeling of the seam tape, you'll need to remove it.
Apply a thin layer of sealant along the seams.
Let dry for 8 – 12 hours.
How to Waterproof the Fabric of Your Tent
Set your tent up on a sunny day
Get your tent wet.
Apply the sealant in a thin layer, avoiding the mesh parts of the tent and paying particular attention to the seams.
Remove excess product with a sponge.
Leave it dry (unless instructions state otherwise) before packing it away again.
How to Waterproof Your Rainfly
Once your tent has been waterproofed and is dry, you can set your rain fly up over it.
If it's dirty, clean your rain fly with a sponge and let it dry thoroughly.
Wet your rain fly down with the hose.
Spray the rain fly evenly with the sealant. After a moment, take the sponge and wipe away any excess adhesive so it can dry in one even layer.
Leave to dry for a few hours.
Waterproofing the floor of Your Tent
Set up your tent in a clean, dry area.
If the seams and floor of your tent are dirty, wash them according to product instructions.
After cleaning the area, seal the seams of the tent floor.
Once the seams are sealed, move on to sealing the remaining area of the tent floor.
Let dry according to product instructions.
Seal up to 60′ of seams on tents, tarps, and awnings with this water-based seam sealant that cures in 2 hours at room temperature.
Use this tent sealant on various outdoor fabrics, including nylon, polyester, and canvas, previously known as Seam Sure.
Seam Grip FC is a fast-curing, water-based tent seam sealer. One bottle of this waterproof sealant seals 60′ of seams, making it perfect for family-sized tents, tarps, and pop-ups made of nylon and canvas.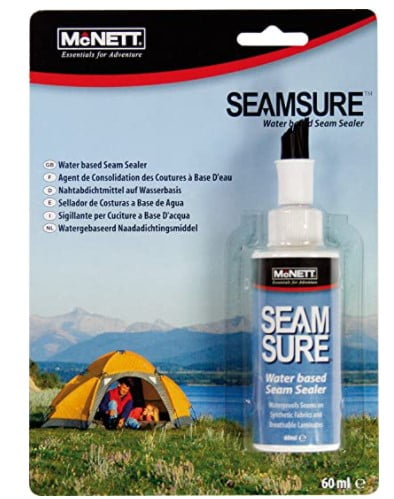 Features:
Long-lasting Seal
Nearly Invisible
Fixes with Fabric
Restores and adds water-repellency to weather-proof fabrics.
Adds UV protection to prevent sun damage and double the gear lifespan; works best after applying Nikwax Tent & Gear SolarWash.
Great for use on tents, fly, backpacks, awnings, boat covers, umbrellas, patio furniture, and panniers. Water-based, biodegradable, and contains no PFCs, VOCs, optical brighteners, or added scent.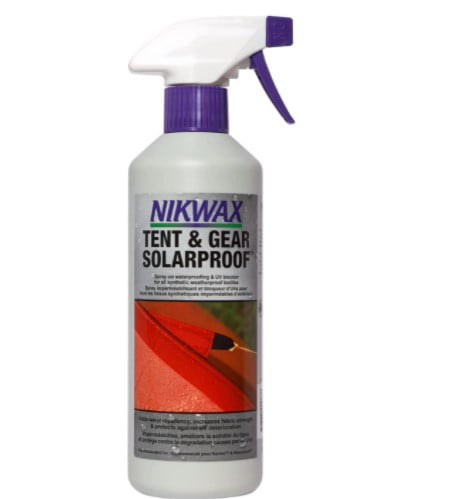 Features:
Waterproofing and UV Protection
Spray-on Application
Multiple Use
KIWI Camp Dry Heavy Duty Water Repellent offers tough silicone protection for outdoor boots and gear.
Its unique formula bonds to leather and fabrics to create an extremely tough water barrier while still breathing materials.
Ideal for tents, tarps, boots, hunting apparel, outdoor gear, boat covers, and more. It maintains the appearance and breathability of your gear, including performance materials like GORE-TEX.
Features:
Multi-Use
Extremely Tough Water Barrier
Additional Tips on How to Waterproof a Tent
Even if you're confident that you're going to have perfect weather for the entirety of your camping trip, it's always wise to ensure your tent is adequately waterproofed.
If you know the weather will be particularly inclement or has the potential to be, then it might be worth applying an extra waterproofing coat to make extra sure.
If your groundsheet isn't up to scratch, that could cause water to get into your tent. A bathtub sewn-in groundsheet is part of the tent, and the sides are turned up, which is a great way to keep water out.
The tent waterproof rating, also known as the hydrostatic head (HH), dictates just how waterproof the tent is. As you'd expect, different tents have different hydrostatic head waterproof ratings. If you want a more waterproof tent, go for one with a higher HH.