Are you thinking about heading to your favorite camping spot? We hear you! When taking a camping trip, preparation is key; after all, you want to spend some time away and 'disconnect' but still have the peace of mind you have everything you need to feel as comfortable as possible. That said, you may want to make sure you have the proper camping gear, which should include a camping shower. That is why today, we'll be sharing with you the best camping shower options around.
As you enjoy the wild for a few days, that doesn't mean you have to sacrifice personal hygiene. A camping shower then is an essential part of your camping gear, providing easy access for you to clean yourself as well as your belongings. Nobody likes sandy feet or mudded boots. Now you can forget about unsanitary bathing facilities, if any, at your campsite.
Whether you are an experienced camper or it is your first time buying this type of equipment, doing some research is always the smartest thing to do, as you'll want to consider a few things before making any investments. But with numerous brands in the market, it might seem a bit challenging knowing what would be a suitable choice. Keep reading and get to know some of the best camping showers on the market.
Best Camping Shower FAQs
Are camping showers any good?
Most of those sun-heated shower bags you fill and hang from a tree have left us chilly and desperate for more than a dribble of water. However, there are now some portable camping shower options that will do a better job. And they're good for cleaning off dogs, sandy feet, walking boots, and more.
A portable shower can make everything right, especially when you have kids who need to stay clean when you're camping. These are convenient if you'll be on the move all day and can access water and heat it, if necessary, where you'll be showering. Plus, they're lightweight and inexpensive.
What types of camping showers are there?
Gravity Hang bag
The classic and traditional form of camping shower is the gravity hang bag. These are simply bags that can hold a certain amount of water affixed to a tree or structure above you.
The key is making sure that the bag is above you because gravity is the only way to get water on you.
Enclosed tent
If you need privacy, invest in an enclosed tent shower. These are usually easy pop-ups that use a gravity bag or pump shower to propel the water at you.
Pump Shower
Some showers come with a hand or foot pump to move the water. With a hanging bag that is powered by gravity, it has to be positioned in a way to work. This does not. Because you are adding pressure with a pump, you can fix the rig with a hose and showerhead to move the water to use it.
Electric Shower
You can rely on some power to move the water of your portable shower through the system. This will require a bit of outside power, such as from a generator or battery pack. If this is okay for your camping endeavors, you will not have to do too much work to get a nice shower in.
Solar Shower
One of the best options for camping in certain areas is the solar shower. As long as you are not in super-dense forests, you can use the power of the sun's rays to power your water pressure.
Gas Shower
his is usually the most expensive and heavy shower option out there. However, it also does the most things for you. This option usually takes propane and can function more than a shower pump. Sometimes, heaters, grills, and many other functions come along with it.
What is a solar shower?
The typical solar shower designed for campers consists of a container that absorbs the sun's direct heat to raise the temperature of the inside water. When the bag is hung overhead, the water flows through a tube to its attached showerhead. Afterward, the bag folds up for easy transport to the next day's camping site.
Do solar camp showers work?
All camp showers heat the same way: You fill them with water and lay them in the sun. So it would help if you had sun and having a warm day helps. We found that nearly all the showers got up to around 100 to 105 degrees after about three hours in direct sunlight on an 80-degree afternoon.
How long does a 5-gallon shower last?
A regular shower uses about 2 1/2 gallons of water per minute, according to the Georgia Water Science Center, so a 5-gallon bag lasts for about 2 minutes if you let the water run continuously. On the other hand, a standing solar shower holds about 10 to 15 gallons and should last more than 5 minutes.
How to use a portable shower?
Position your camping shower in an area that is safe, clean, and can hold a bag or is level for a pop-up tent.
Then you need to find a good and consistent water source.
Whether it be in your bag, bucket, or anything else, you should have enough on deck to get your shower done.
After cleaning, take down the shower setup and get the area looking normal.
What to keep in mind when choosing the Best Camping Shower?
Size: You also need a camping shower that works with the style of camping you are engaging in. You probably want a simple hang bag or light and compact pop-up if you are backpacking.
Use: You need to determine how you are planning to use the shower. Although the main idea of a camping shower is relatively universal, you can still weigh your options and pick the right option based on that. If you need some extra store and maybe a place for changing close, the pop-up tent showers will be best.
Heating Capabilities: Not all heated camp showers are created equal, with their respective ability to warm up water hugely varying.
Construction: Its overall quality and durability will essentially boil down to its structure. The material being used will depend on whether the shower is a soft or rigid, hard-sided unit. However, manufacturers that use quality materials will seldom fail to advertise such. A general rule of thumb is the bigger and more robust the shower, the more hardwearing and robust the materials should be.
Capacity: Generally, camp showers will not extend over five gallons of water at one time. This is just enough for most campers to get a quality shower in before running out. You can get a full shower out of three or four gallons the more efficient you get.
Best Camping Shower
This showerhead Water flows at approx. 2 liters per minute and up to 5-7 minutes shower time with 10 liters (2.5 gallons) water.
There are three ways to charge: 1. mobile phone charger; 2. USB output from the laptop; 3. USB output from the car works up to 60 minutes at full charge of continuous use.
You could use it indoor or outdoor; suitable for hiking, camping, BBQ, travel, kids bathing, plants watering, doggies, cats and other pet's cleaning, etc. Moreover, a suction cup and hook are included for using it hands-free.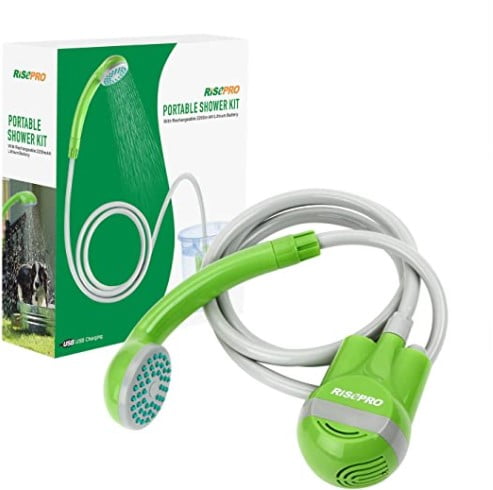 Features:
Multiple Uses
Easy to Operate
Three Charging Methods
Unlike gravity camp showers that need to be hung overhead and produce dismal water pressure, the award-winning Helio portable pressurized shower and sprayer rests on the ground and provides the pressure you need to wash hair, do the dishes rinse off gear, water your plants, or wash the dog.
You can quickly and easily pressurize the 2.9-gallon tank with a foot pump, and with occasional pumps, you can keep it fully pressurized for 5-7 minutes of intense, continuous spray. The tank cannot be over-inflated.
Precise folding panel design allows for lightning-fast setup and an even smaller packed size. Set the full tank in the sun for a warm shower at the end of the day, or fill it directly with hot water.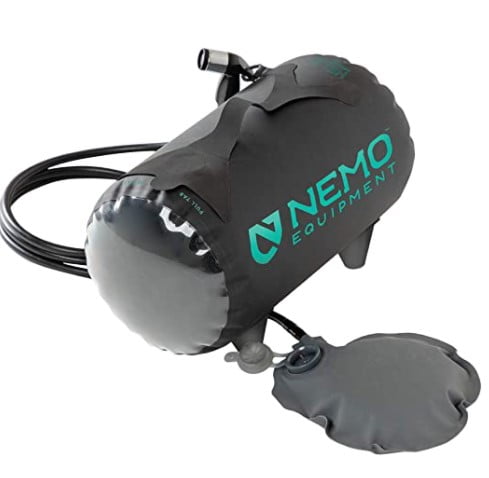 Features:
Versatile
Easy to Use
Pump it Up
Whether hiking deep in the forest, surfing some waves, or lounging poolside, everyone stays clean with the Battery Powered Portable Outdoor Shower by Ivation.
This easy handheld device draws water from a bucket, sink, or similar receptacle, converting it into a gentle, steady, shower-like stream that's perfect for everything from personal bathing to watering flowers.
Adventurous campers solve their water woes thanks to the shower's active built-in filtration feature. This versatile showerhead serves multiple purposes, providing true on-the-go expedience.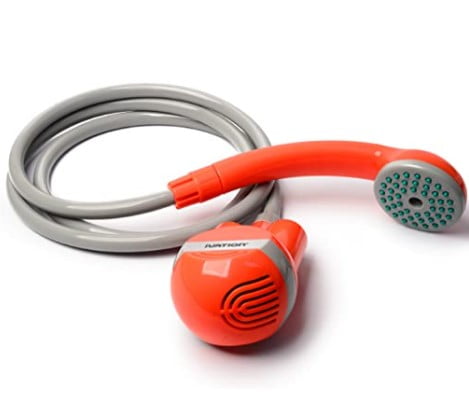 Features:
Battery-Powered
Suction Cup Support
Compact & Portable
Don't miss a shower even when you're camping with the Coleman 5-Gallon Solar Shower. The reservoir holds up to 5 gallons of water, enough for multiple showers.
It's constructed of heat-locking material that warms the water when it's left in the sun, even on cool days.
The shower features a strong handle for reliable hanging and carrying and a handy on/off shower head valve to conserve water.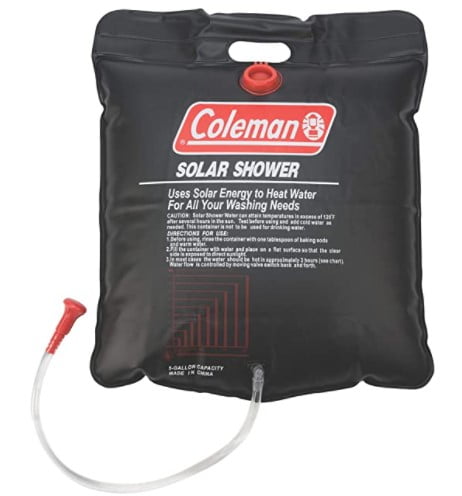 Features:
Strong Handle
On/off Shower Head Valve
5 Gallon Capacity
Our OVS Wild Lands Portable Privacy Room Shower is the perfect addition to any overland vehicle.
It sets up in seconds and comes with the para-cord and stakes to securely fasten this handle the strongest windstorms.
Beyond the shower, this is used as a changing room, portable bathroom, or little privacy. Featuring a large dual-zippered D shaped door; the floor can be clipped up or down for use, compression hub, and pre-threaded telescoping poles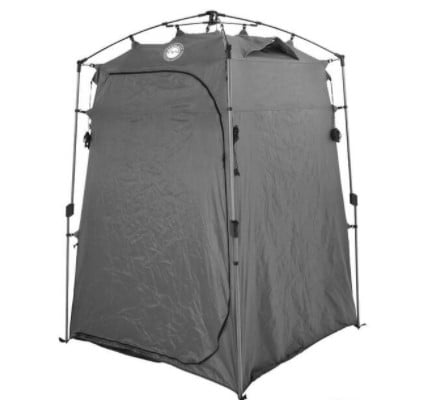 Features:
Retractable Floor
Amenity Pouches
Quick Setup