Thinking about disconnecting and going for a relaxing camping trip? We hear you! Preparation is key when taking a camping trip; after all, you want to spend some time away from all the 'noise' but still be prepared and feel as comfortable as possible. That said, you may want to make sure you have the proper camping gear, which should include a camping canopy. That is why today, we'll be sharing with you everything you need to know about the best camping canopy and more.
Whether you are an experienced camper or your first time buying this type of equipment, doing some research is always the smartest route, as you'll want to consider a few things before making any investments. It is no secret that camping requires special equipment. A camping canopy will provide the perfect shelter for you, your crew, and your belongings.
In other words, if you want to make sure you have everything you need to enjoy your camping experience, then you want to bring along a camping canopy. With many brands in the market, it might seem a bit of a task knowing what would be a good choice. Keep reading and get to know some of the best camping canopy options on the market now.
Best Camping Canopy FAQs
What exactly is a camping canopy?
Canopy tents go by many names: screen houses, outdoor canopies, camping shelters, day tents, camping gazebos, patio shelters, portable shelters, and portable gazebos.
However, it isn't meant as a place to sleep; for that, you should choose a regular car-camping tent.
What is a good camping canopy?
A good camping canopy should protect you from the trifecta of outdoor discomforts; sun, rain, and bugs. And it should be intuitively designed and pleasant to sit in.
Why do you need a camping canopy?
The best part about having a camping canopy is sheltering from the elements. Most camping canopies are waterproof. This helps to keep you, your family, furniture, and camping gear dry in the rain.
As a canopy will protect you from rain, it will keep you safe from windy weather. Unpredictable winds can happen at any moment. With durable fabrics made to withstand windy weather, you will have a safe place to stay.
It also is helpful in sunny weather. You can protect yourself from the midday heat and relax under the shade.
A camping canopy can also keep your gear dry and safe during a rainstorm or even from the heat. Keep items accessible and dry at the same time.
Is a black canopy hotter than a white canopy?
The color black absorbs much more light and heat from the sun than white will. If your tent is not positioned in the sunlight, a black tent will be no hotter than a white tent in the same position. So, you can use a black tent when camping in summer.
How can you prevent your camping canopy from blowing away during a rainstorm?
If you're expecting heavy rainstorms, you will want to weigh your canopy. Do this before potential gusts of wind blow it away. You can buy leg weights, sandbags, anchors. You can even tie-downs if your canopy doesn't already come with them.
How do you secure your canopy to the ground?
Secure your canopy tent with anchor ropes
Anchor your canopy with stakes. You can add sandbags or weights to the legs for added support.
Make weights using large buckets.
How do you set up a canopy?
Take all parts out of the case, lay everything out, and set the roof aside.
Setup the canopy legs. If it is an accordion-type frame, start on an end and pull until the legs begin to unfold. Leave 12 inches between each leg. Do not raise the leg height yet.
Add the roof. Connect the top material to the frame. Some camping canopies use tie-downs, snaps, or Velcro to secure the roof.
Secure the inside hardware. There are often brackets on the inside of the frame that you will need to attach to keep the roof secure.
Raise the legs. You will notice holes on each leg. These are for adjusting the canopy to the desired height. A spring in each leg slides into the hold to firmly hold it in place.
What to look for when choosing the best camping canopy?
Material
Polyester: This is the best synthetic for a canopy as it is hard-wearing and requires less immediate care. It is also lightweight and low bulk. It is easy to transport and store and makes pitching easier.
Polyethylene: The higher thread count allows it to keep out heavy rainfall. But, keep in mind it is less durable than polyester and not the best option in the long run.
Vinyl: Vinyl is a polyester fabric that has a coating of vinyl. This extra coating gives it waterproof and UV-resistant properties. It also has flame-retarding properties making it ideal for a bonfire. However, this fabric can be very heavy.
Frame
Aluminum: If you want a canopy that is easy to transport, then aluminum is a good option. It is lightweight and easy to store. Since it weighs less, it's simple to assemble.
Steel: A camping canopy with a steel frame is the best choice if you want sturdiness and strength. Steel is heavier than aluminum.
Easy Setup
Look for canopies that have easy-to-pull-pin sliders as well as push-button leg extenders. These types of canopies need only one person for assembly and are pretty quick to secure.
Lightweight & Portable
Anything you bring on your camping trip should be lightweight, portable, and compact. The same goes for your canopy.
This will also depend on the type of material the fabric and poles. Some canopies offer ultra-light legs that make transport and setup easier.
Storage
A carrying case will make moving your canopy tent easy with features like handles and wheels. Some cases even have hard outer shells for added protection. Most canopy tents come with their own case from the manufacturer.
Sidewalls
A camping canopy for the rain with a sidewall will give you added protection from the weather and sun. They also offer added privacy.
Best Camping Canopy
It can be positioned over a picnic table or simply set up as a comfortable lounging area without a floor. The straight zipper openings on two sides provide quick and easy entry/exit, so bugs don't have a chance to get in.
No-see-um mesh doors and walls keep bugs outside where they belong; polyester taffeta roof provides shade from the sun.
With solid fabric perimeter around the base blocks the creepy crawlies. A combination of top pole sleeves and side clips with color-coding simplifies the setup.
Features:
Polyester taffeta
Aluminum Pole
Freestanding
Lightweight, portable canopy designed to provide shelter against the elements. Set-up inner dimensions measure 11.5 feet across and 7.5 feet at center height. It accommodates up to 8 people or can fit over a standard picnic table.
Taped roof panel resists water to keep you dry inside; a high-quality mesh screen and extra-wide skirt help keep bugs, flies, mosquitos, and other insects out.
Canopy shelter requires zero assemblies, is ready to use right out of the box, and takes only 45 seconds to set up. It features built-in corner grommets for staking down from the inside corners for added strength.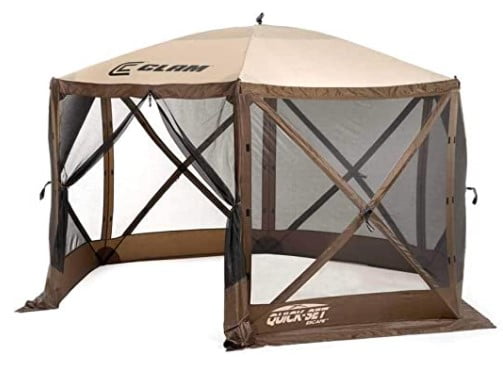 Features:
Waterproof
Square Shape
Lightweight
Portable
Get protection from the sun, wind, and bugs from dawn to dusk with the Coleman Mountain View Screendome Screen House Dome.
With its easy setup, just 10 minutes, you can start enjoying the 100 sq. ft. of shade this shelter provides. Its unique, super-stable dome shape protects from the low-angle sun in the early morning and late evening.
With 2-removable shades, walls add even more protection and allow you to change which sides block the sun and wind. Once your shade configuration is set up, you can also zip up any of the four screen walls to keep out the bugs.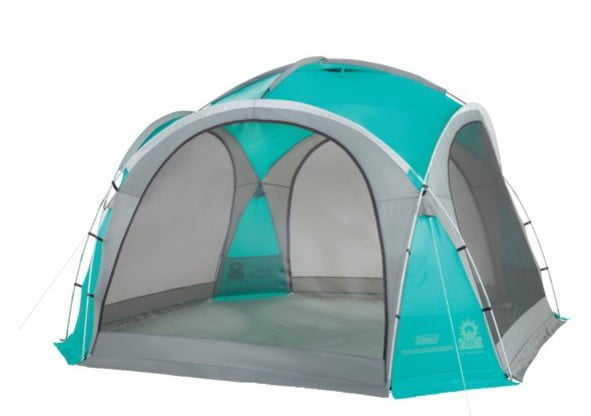 Features:
50+ UPF protection
2 Moveable/removable Shade Walls
Easy Setup
This roomy outdoor screen house not only keeps bugs out but also has the option of adding a full-coverage rainfly for superior weather protection.
It comes with a full-size door for quickly moving furniture in and out, and a half-panel door lets you come and go without letting in the bugs.
Its sturdy construction features a shock-corded aluminum frame, a 75-denier ripstop polyester screen house, and includes ten stakes and eight guy lines. Also, with an optional full-coverage rainfly for superior weather protection.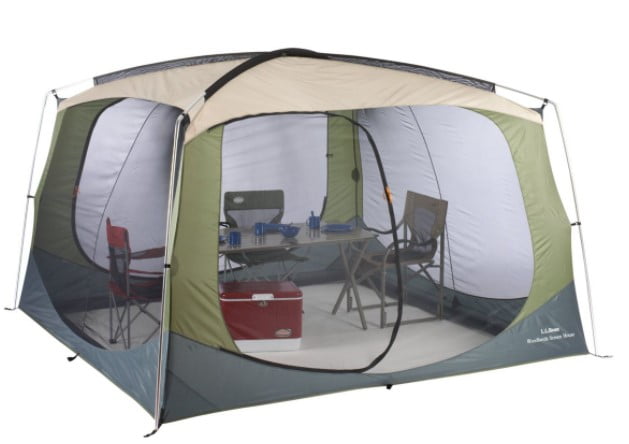 Features:
Aluminum Frame
Full-size Door
Half-panel Door
Make the Wenzel Magnetic Screen House an essential part of your summer picnics and parties! Cool off in the shade and escape pesky bugs at your next outdoor gathering.
With a peak height of 7.5 feet, it's also large enough to fit over a picnic table. Magnetic strips line the large "I" style doors for automatic closure and hands-free entry/exit, making going in and out with kids, pets, or food a breeze.
The sturdy steel and fiberglass frame is set up easily and can fit over a picnic table. Magnetic front and back doors provide hands-free entry with automatic closure.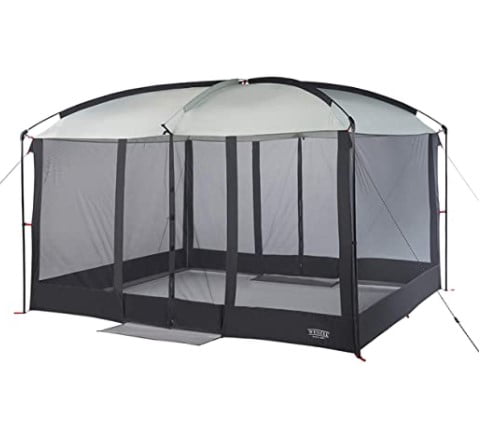 Features:
Rectangular Shape
Automatic Installation
Synthetic Material
This camping canopy comes with a canopy and a closed floor; it means you are allowed to enjoy yourself on sunny days and be dry and comfortable on rainy days.
Roll up the waterproof curtain to allow airflow in and enjoy the best views, zip down for changing or keeping dry and clean, bonus with additional poles to create a large shade awning in seconds, close walls independently as the sun moves to keep cool.
It is roomy enough for four adults to stand tall and move around by. The design of straight walls and two Large T- doors make the interior space larger and more comfortable; you can go in and out and access your equipment and supplies conveniently.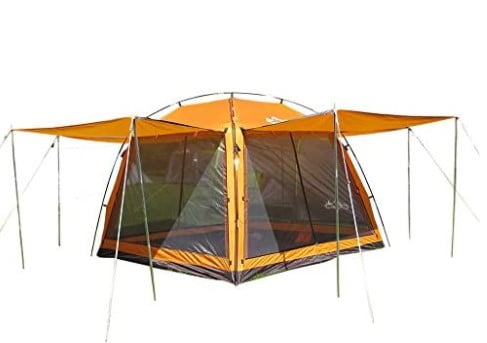 Features:
Polyester, Polyurethane
Waterproof
Square Shape