Thinking about getting in touch with nature with a camping trip? We hear you! Preparation is key when taking a camping trip; after all, you want to spend some time away from all the 'noise' but still be comfortable enough, right! Then, you may want to make sure you have the proper camping gear, which includes a reliable popup tent. That is why today, we'll be sharing with you everything you need to know about some of the best popup tent options.
It goes without saying camping involves specialized equipment. A tent will provide a safe and comfortable place for you to get your rest as you enjoy your adventure in the great outdoors. In other words, if you want to make sure your camping experience is a memorable one, a popup tent is an essential piece of equipment.
Whether you are an experienced camper or your first time buying this type of equipment, doing some research is always the smartest route, as you'll want to consider a few things before making any investments. With lots of options in the market, it might seem a bit of a task knowing what would be a good choice. Keep reading and get to know some of the best tent popup tent options currently on the market.
Best Popup Tent FAQs
Is the popup tent any good?
A popup tent provides all the same sheltering qualities as a traditional tent. Still, it utilizes innovative internal pole structures that allow them to 'POP' up into place with little more than a flick of the wrist. Simply toss the folded package in the air, and you've got a tent.
Is a popup tent easy to use?
The best popup tents are easy to put up and pack away so you can spend more time enjoying yourself at festivals and on camping trips and will also do the all-important job of keeping you dry should the weather turn.
Is a popup tent good for camping?
If you're a beginner at camping, then popup tents are a fantastic option since they require a very easy learning curve to set up. If you're not planning on getting into camping but need a tent for an event, then a popup tent makes things a lot simpler, and you usually don't have to spend a lot of money.
Is a popup better than a tent?
Popup tents have essentially eliminated the most frustrating part of getting your campsite setup; forget about getting to the campsite after the sun has gone down and having to fight with a mess of poles and fabric to get the tent up, not being able to see what you're doing. Even in daylight, setting up a tent can be one of the most frustrating parts of camping.
In addition to being able to sleep more people, popups have much more room for storage. Popups provide a safe, dry haven for watching storms or for watching tents float around the campground.
What size popup tent do I need?
The dimensions of your popup should match the needs of your adventure, that is to say, big enough for everyone who is sleeping inside of it, in addition to a little extra room to account for people's gear and personal belongings.
Are all popup tents waterproof?
It depends on the model. Most popup tents are designed for clear conditions like sunny days and cloudless nights. Some models, however, offer a rainfly that allows your tent to become a bit more weatherproof. This is because the waterproof fabric is expensive and heavy, but it doesn't breathe well, which can make for a very clammy evening in the tent. Read everything you need to know about how to waterproof a tent.
Are all popup tents flame resistant?
Most outdoor products, especially tents and shelters, are subject to certain regulations regarding fire-resistant properties. That said, fire resistance will vary from product to product, so check the manufacturer's specifications before you buy.
What to look for when choosing the best popup tent?
Material
For the most part, popup tents are made of the same fabrics and materials as traditional tents. The only difference is the way the internal metal or fiberglass support poles are shaped and installed.
With some exceptions, popup tents are made of polyester or vinyl, and synthetic materials are more adept at providing weatherproofing qualities like water resistance and wind resistance while still being lightweight and easy to pack.
Size & Weight
Like regular tents, popup shelters and tents come in a number of different sizes, accommodating anywhere from 2 to 10 people depending on the specific circumstances. Selecting the right size for you is all about considering how many people will be using it and how much stuff they will be bringing along with them.
If you are planning to travel with a backpack, the tent's weight is crucial. However, if it's car-camping, the tent's weight may not be a problem. A heavy tent is likely to be stronger with better chances of withstanding strong winds.
Layout
Most tents available today come with an interior sleeping area and a vestibule inside their door. This vestibule comes in handy as a storage room for your camping gear.
The majority of the bigger tents have the main door, a vestibule, and a sleeping room on either side of the tent. This particular design is perfect for families since it can provide them with the best privacy option.
How to put up a popup tent?
Prepare the area on which you're going to pitch your tent. Make sure that any sticks, stones, or sharp objects could make your sleep uncomfortable.
Select the right location to pitch your tent. Please choose a flat area, preferably on a patch of ground higher than that which lies around it.
Take your tent out of its bag. Take any restraining band from around your tent. It will then pop open. Make sure you've turned your tent up the right way so that the door is in the correct position.
Peg your tent securely to the ground. Put the pegs through the tent loops on its corners. Hammer or push the pegs at an angle of 45 degrees towards your tent into the ground.
Your tent will probably already have guylines attached. Secure them into the ground firmly at each end of your tend. You can adjust the guylines to suit the space you have available by adjusting the slider, so the ropes become taut.
Check that your tent is firmly secured with the guylines secured and the pegs sunk correctly in the ground. You can now sleep in your tent.
Best Popup Tent
Take the popup tent out of the package, unstrap it, and throw it into the air; it will automatically be opened in seconds.
Features 2 large doors with dual zippers and two mesh windows on sides. In addition, it has an extra mesh window on the top, which provides much better ventilation.
This tent is also equipped with a top waterproof cover, preventing moisture from appearing inside the tent while ventilating. The tent has high wind resistance and is equipped with ten lightweight Alloy Pegs and 4 Guy Ropes.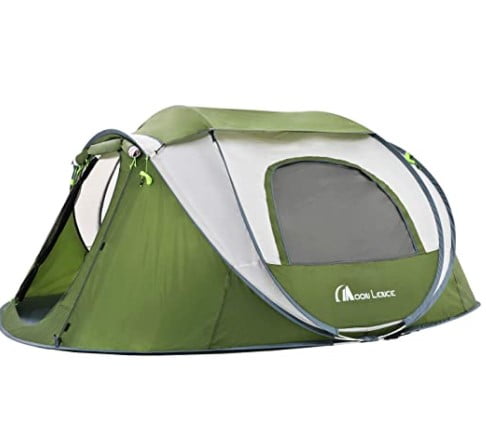 Features:
Water-Resistant
Easy Setup
4 Person
Inverted seams increase weather resistance by hiding needle holes inside the tent. They are engineered to be a stronger, more wind-responsive frame with redesigned poles and guy-out triangles.
A zipper cuff made of weather-resistant fabric adds protection from the elements to the door. Multi-position rainfly offers the perfect balance of protection and ventilation.
Welding-inspired technology strengthens the tent floor and eliminates needle holes. Taped floor seams keep you dry even when the ground is soaking wet.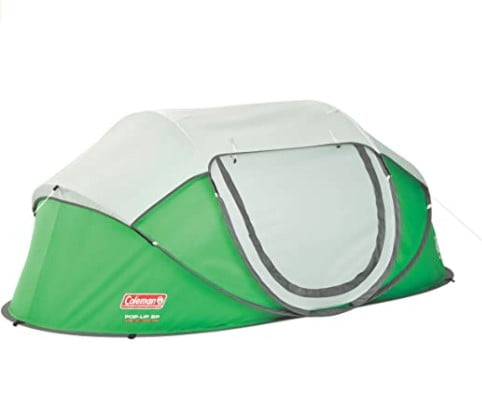 Features:
Wind-Strong Frame
Zipper Protection
Waterproof Floors
Ideal for festival and weekend camping. The Malawi two popup tent is ideal for a fun-packed weekend in any weather. Quick and easy to pitch, it will leave you with plenty of time for adventures.
Popup technology allows quick and easy pitching. It features a waterproof hydrafort 70 D flysheet with a 3000 mm hydrostatic head.
Strong and flexible fiberglass poles, internal pockets, and lantern hanging points.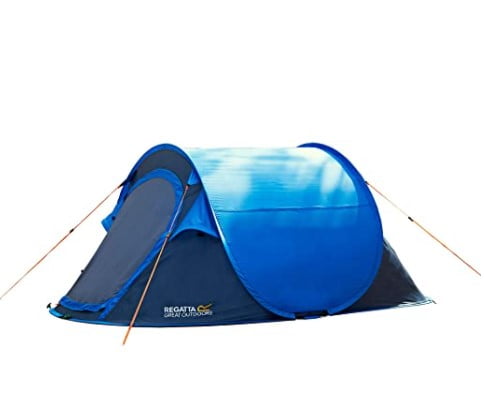 Features:
Freestanding
One Size
Waterproof
This popup tent has a spacious interior:12.5 x 8.5 feet floor; it sleeps 5-6 adults in sleeping bags or 4-5 people with lots of luggage. Storage pockets and lantern hooks keep items neat and organized.
This camping tent is specially designed with a double layer, the inner and outer layers connected by hooks, which can effectively prevent condensation.
There is a gap between the inner and outer layer, becoming a ground vent that can offer additional ventilation to keep you cool on the warm spring and summer evening.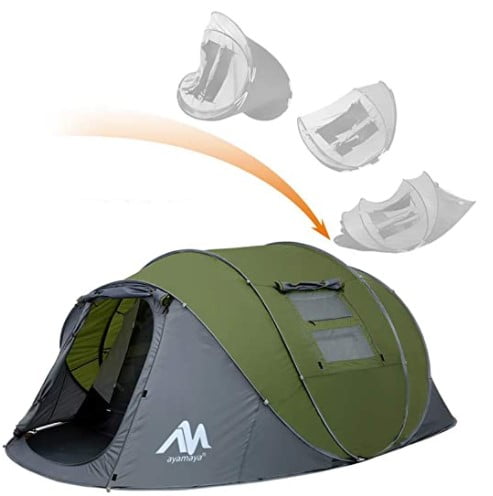 Features:
Double Layer
Waterproof
Easy Setup
Mesh Windows
With double doors on both the left and right sides, it's easy to step out from either side. Moreover, a combination of the inner zippered screen plus the outer zippered nylon layer gives an ability to switch between high breathability and complete privacy easily.
Offering high breathability thanks to a mesh window on both the front and back allow for air circulation, while the solid nylon flaps over the windows allow for privacy. Further, opening the mesh windows will enable you to enjoy your surroundings from inside the tent.
Pops open in the blink of an eye into a ready-to-use tent and easy to fold back into a compact form.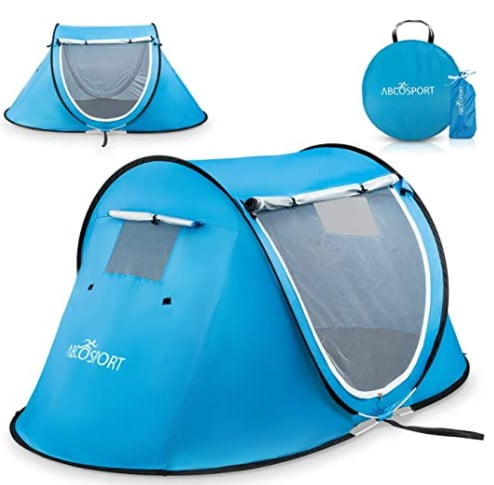 Features:
Water-Resistant
UV Protection Sun Shelter
Easy Setup