Are you thinking about taking that overdue camping trip? We hear you! When taking a camping trip, preparation is key; after all, you want to spend some time away and 'disconnect' but still have the peace of mind you have everything you need to feel as comfortable as possible. That said, you may want to make sure you have the proper camping gear, which should include a screen room. That is why today we'll be sharing with you the best screen room for camping and more options.
Whether you are an experienced camper or your first time buying this type of equipment, doing some research is always the smartest thing to do, as you'll want to consider a few things before making any investments. It is no secret that camping requires special equipment, and a screen room will not only protect you from the sun but will also keep bugs at bay.
In other words, if you want to spend some camping quality time, make sure you bring along a screen room for camping. With many brands in the market, it might seem challenging to know what would be a good choice. Keep reading and get to know some of the best screen room options for camping.
Best Screen Room for Camping FAQs
Are screen tents worth it?
High-quality screen tents are easy to set up and provide enough space to move around, dine, and relax. While their primary purpose is to prevent bugs and furry food snatchers from ruining the festivities, screen tents can protect against the sun, wind, and even light rain.
Is the screen house waterproof?
A screen house is like a portable, waterproof living room. To further improve your camping experience, screen houses are equipped with mosquito netting around the outside to protect you from bugs and insect bites while you relax in the evening.
Can you sleep in a screen house?
Screen tents don't offer any privacy or protection against light, so they can't be used for sleeping. Depending on the size of your screen tent, it can hold items or provide a safer place for lounging.
Can you cook under a screen tent?
Just as you would think twice about cooking under a tree or low branches, you should also consider the risks involved with cooking under a canopy tent. Most pop-up canopies covers are either polyester or polyethylene, which will melt and potentially ignite if they heat up too much.
How to pick the best screen room for camping?
The best screen tents are ones that can cover your patio area or picnic table while still allowing you to see clearly through the mesh walls.
You also want one with a sturdy steel frame or fiberglass poles to help stand up against light rain. Many can also withstand strong winds and heavy rain with some added weights or stakes.
In addition to protection against various weather conditions, any of the screen tents also offer easy access and UV protection from the harsh rays on sunny days.
Another top pick to look for offers an easy setup. Many brands offer "instant tents" with a super-easy setup.
The best tent will also likely have a bag for easy storage and ground stakes to ensure it stays in place.
What to keep in mind before buying a screen room for camping?
Capacity: Obviously, this will depend on the base size, but its shape also matters, as well as the shape of the furniture. Bear in mind the armrests design and the width of the chairs in general.
Protection level: All the screen shelters protect from flying insects, but you might want to consider also protection from the sun and protection from the rain.
Packed size: Usually, the screen houses with instant Setup are longer when packed. So this is a sort of trade-off, they are easy to use, but they take more space in the car trunk.
Ease of use: If you plan to change the place frequently, you might want to consider those with instant Setup. As mentioned above, they are incredibly easy to use, but they tend to be longer when packed.
Weight: This is probably less important as these are all items designed for camping places with motorized access. But there are differences in the weight, so check if this is important.
Best Screen Room for Camping
Protect family and friends from the sun, rain, and bugs at your next get-together under the Coleman Screen House. The durable Polyguard™ 2X double-thick fabric with UVGuard™ 50+ UPF offers superb sun protection.
The tent can be set up in as soon as 3 minutes, allowing you to get straight to the relaxing. 2 large doors provide plenty of mobility through the shelter.
Comfort Grip™ technology makes it simple to lock your shelter into place for easy, pinch-free pole extension. An included wheeled carry bag offers hassle-free transport and storage when the fun's done.
Features:
UVGuard
Instant Setup
2 Large Doors
Keep the sun, rain, and bugs at bay during your next picnic, barbecue, or campout under the Coleman® Screen House Canopy Sun Shelter Tent with an instant setup.
Its UVGuard™ material provides UPF 50+ protection from the sun's dangerous rays, while two large doors allow for up to 4 people easy access to the screened shelter from either side of the tent.
The double-thick fabric stands up to the elements season after season, and the ground stakes and pre-attached guy lines can withstand strong winds. The screen walls are perfect for keeping the mosquitoes away.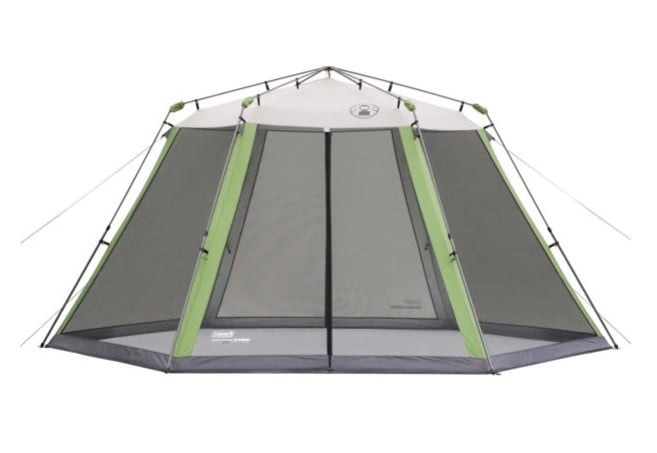 Features:
Built to Last
Instant Setup
Sun Protection
Looking for a shelter that allows you to enjoy the great outdoors while also keeping the bugs out? If so, choose the Ozark Trail 13ft x 9ft Blue Screen House Tent.
This 190T polyester screened shelter gives you an accessible haven from the less desirable aspects of the outdoors with a quick and easy setup. It also allows you to have a clear 360-degree view of your surroundings at all times with the no-see-um mesh panels.
This 13×9 shelter is also large enough to host an outdoor dinner while letting enough air in so you are not stifled but still block the wind. The frame's easy Setup, color-coded fiberglass, and steel pole design, along with the stakes and guylines, keep your shelter stable in the breeze.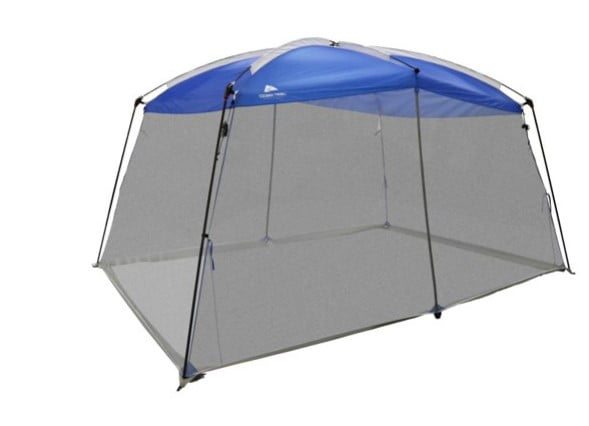 Features:
Mesh Panels
PE Splash Guard
Two Doors
This Ozark Trail instant screen house has a roomy interior that offers a retreat from the sun, rain, wind, snow, and insects. It assembles in just 60 seconds, making it a suitable option for when there's a sudden change in the weather, and it even offers protection from the sun's rays.
It includes two doors, allowing for an easy entrance and exit, and is made of polyester and steel for durability.
The Ozark Trail 10′ x 10′ screen house comes with a carry bag for effortless movement from one location to another, as well as ten steel stakes and tie-downs for stability. Its gray color allows it to blend in well with most outdoor environments.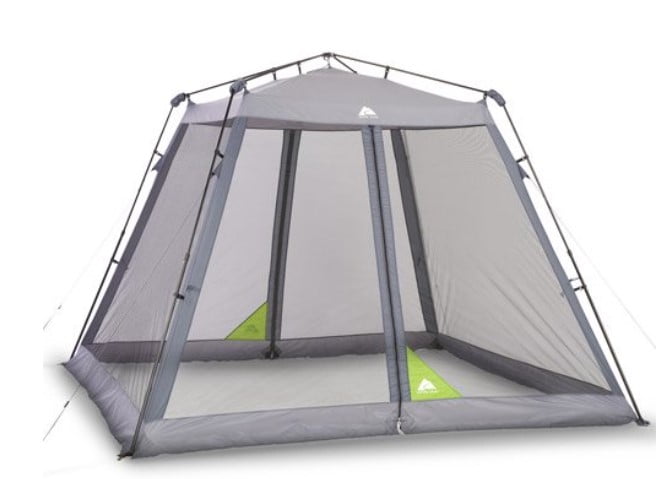 Features:
Easy 60-second Setup
Heavy-Duty Mesh
50+ UV Protection
Enjoy the outdoors using Alvantor 10′ x 10′ Instant Canopy Screen House. It's pop-up style and easy to set up, so do-it-yourselfers can put it to use quickly. This instant canopy has a UV 50+ protection canopy to keep the sun off those who are inside.
The mesh walls offer perfect air ventilation. It has two zippered doors for simple entry and exit as well. The bug-free canopy protects from insects on all sides.
It is the best choice for picnic, barbecue, party in the backyard, park outdoor camping! This pop-up screen gazebo has plenty of space, is lightweight, and fold compact for easy transport.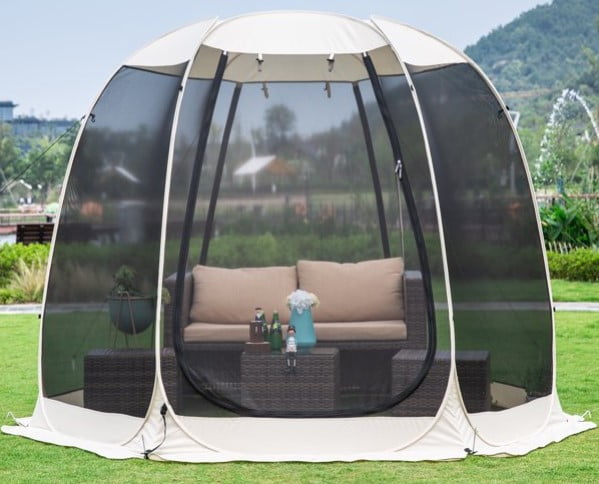 Features:
Lightweight
Patented Design
Easy Set-Up & Storage
The Magnetic Screenhouse gives you protection from insects while providing convenience when your hands are full. The front and back magnetic doors provide easy and hands-free entry and exit with their automatic closure design.
The perimeter floor and 11 foot by 9-foot footprint ease set up and allow for placement over a picnic table.
The sturdy steel and fiberglass frame design is strong and durable and provides for a fast and easy setup. Large mesh walls keep the insects out and the breeze comfortably blowing through.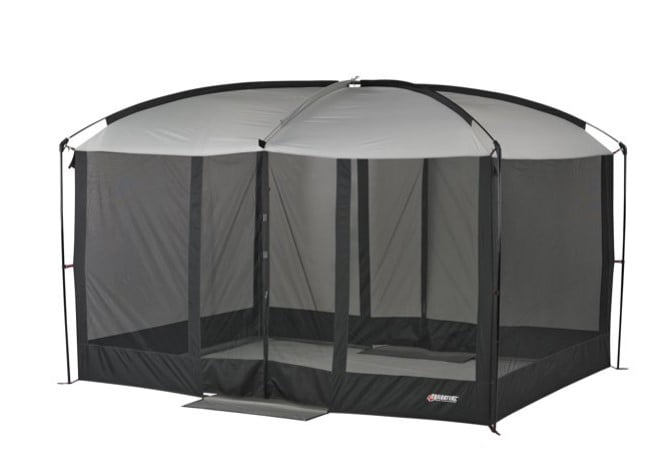 Features:
Magnetic Doors
Sturdy Steel and Fiberglass Frame
Large Mesh Walls
Enjoy the outdoors by using Alvantor 12′ x12′ Pop Up Winter Bubble Tent Hot House. It's a pop-up style and easy to set up, so do-it-yourselfers can put it to use quickly.
You can enjoy the sunshine and beautiful scenery and feel warm all the time outdoors in winter with the super transparent PVC fabric. It has two zippered doors for simple entry and exit as well.
It is the best choice for a picnic, Hot Tub, Jacuzzi, barbecue, afternoon tea, party in the backyard, garden, and park in winter. This pop-up screen gazebo has plenty of space, is lightweight, and fold compact for easy transport.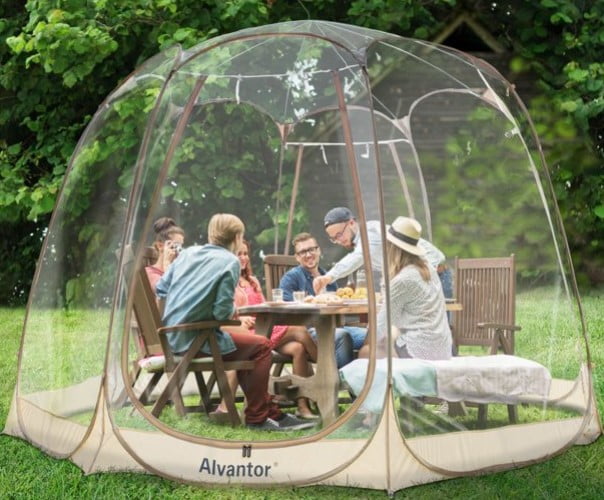 Features:
High-definition PVC Fabric
Weather-resistant
Fiberglass Poles
If you prefer to get a tent that already has a screen, we suggest you read about the best tent with a screen porch.