Are you thinking about taking that overdue camping trip? We hear you! When taking a camping trip, preparation is key; after all, you want to spend some time away and 'disconnect' but still have the peace of mind you have everything you need to feel as comfortable as possible. That said, you may want to make sure you have the proper camping gear, including a wall tent stove. That is why today, we'll be sharing with you everything you need to know about the best wall tent stove options and more.
Whether you are an experienced camper or your first time buying this type of equipment, doing some research is always the smartest thing to do, as you'll want to consider a few things before making any investments. It is no secret that camping requires special equipment, and a wall tent stove will provide the perfect warm shelter for you and your crew.
In other words, if you'll be camping under cold temperatures, you want to bring along a tent stove. With many brands and models in the market, it might seem challenging to know a good choice. Keep reading and get to know some of the best wall tent stove options that you'll undoubtedly find helpful.
Best Wall Tent Stove FAQs
Reasons you need the best wall tent stove?
One of the best things about camping in a wall tent compared to other tents is that they can be heated with a wood stove to bring the fire inside the tent.
Whether it has a warm place to sleep all night or just knocking the chill down in the morning makes all the difference when camping with the family or at an outfitter's camp.
Stoves have a flat cooktop, and some even have extensions (trays) for a larger cooking area. So you have both heating and cooking facilities combined.
Some of the stoves have folding racks that can be used to dry socks and gloves.
How warm is a wall tent with a stove?
A tent is warm as long as the stove burns, even at –30°F.
How well do tent stoves work?
A tent stove is 10 to 20 times more efficient at burning than an open fire. That heat energy is momentarily 'stored' in the tent stove then radiates from it. Heat radiating back into the firebox and flue pipe raise the fuel's temperature, fire, air, and waste, promoting further combustion.
How long do tent stoves last?
The stove holds heat for about seven hours, so it has to be stoked once during the night. It's nice to roll out the sleeping bag to a stove still full of hot coals. So nice; in fact, it almost takes away from some of the fun and challenge of Winter camping.
How big of a tent stove do I need?
If you are going to camp in freezing weather, consider purchasing one size larger stove than the stove designed for your tent size. The one-size larger stove will ensure that you stay warmer in very cold or wet conditions. Additionally, you will need a warm tent to dry out wet boots and clothes.
How do I keep my wall tent warm?
We recommend placing a fireproof mat under the stove in any canvas winter tent. Additionally, you may add a fireproof heat shield to the sidewall frame for extra fire protection.
Can you burn coal in a tent stove?
But, if your wall tent stove isn't a house stove, you'll melt the thing if you get enough air under it. That's what coal needs. Air that gets pulled up through it. So, while a wood grate will allow some coal to burn in a wood stove, you likely won't get extended, hot burn times.
How hot does a tent stove pipe get?
Typically you want to get the pipe to 500 – 550 upon initial start-up and close down the air to run the stovetop temperature around 450.
How do you keep a tent stove burning all night?
Rake the charcoal towards the front of the woodstove.
Place five to seven large logs in a tight formation behind the coals.
Shut the door and enjoy.
What are the types of wood stoves for camping?
Steel Stoves
Heavy steel stoves are constructed from rolled steel between 10 to 18 gauge (.135 -.05 in) and are usually designed as cylinders or square boxes in various sizes to heat even the largest wall tents.
Light Weight stoves are designed to be light, so they are easier to pack. They are lightweight because they are made from thin galvanized metal but will not last as long as heavy gauge steel.
Collapsible Stoves
These are designed to fold up to make them easier to pack. They are made of the same galvanized metal, so they weigh about the same as lightweight stoves but take up less space when folded.
Backpacker Stoves
These can only heat a small area for an hour or two. Wall tents aren't designed to be backpacked, and most lightweight tents can't handle the heat or the chimney.
What to keep in mind when choosing a wall tent stove?
Weight: There are essentially two groups for weight; backpack-portable stoves and those that need a car for transportation. If you plan to use the stove with the vehicle, the weight is not crucial.
Pipe diameter & pipe jack: The pipe diameter is usually equivalent to the burning power; the bigger the diameter, the better the burning power.
Accessories: Some brands have a long list of accessories with their wood stoves, such as stove dampers, stove racks, spark screens or spark arrestors, etc.
Best Wall Tent Stove
The stove can quickly reach a temperature act as a heater to provide warmth and heat to space in outdoor camping trips.
The flat top of the stove is your cooking surface. The wood-burning stove can be used to cook just about anything you can cook on the range in your kitchen.
Camping wood stoves use natural fuel sources like firewood, twigs, wood chips, etc. Be vertically vented by running the flue pipe out of the top of a tent.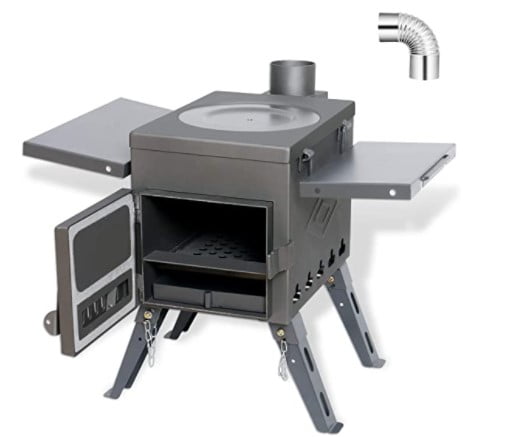 Features:
Alloy Steel
Multi-function
Easy to Use and Safe
This camping stove's firebox measures 15×7.9×8.7inch, with a volume of 16.7L. It can hold a large amount of firewood at once and burn longer. This tent stove can provide a lot of heat to keep you warm in the cold winter.
The thickness of the top plate is 3mm, the thickness of the side plates and side shelves is 2mm. This thickened steel plate makes the stove more robust and durable, and more effective in reducing deformation.
The door and sides of the stove are made of large, heat-resistant glass. This dancing flame is also a beautiful sight on the quiet winter night, which adds a lot of fun to your camping.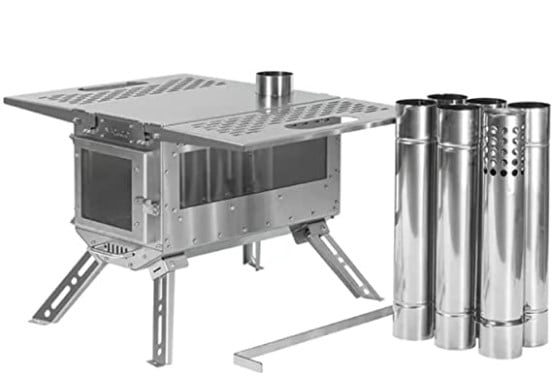 Features:
Stainless Steel
Flat Side Plates
Visible Glass
This camp stove has been designed to use outside. Perfect for use during camping trips or in your backyard. Whether heating or cooling, the wood-burning stove does it all.
The Guide Gear outdoor stove features a galvanized steel firebox with a heat-resistant finish for wood burning. The front door is made from strong cast iron with air vent holes.
The portable wood stove can be used to burn kindling wood. It's a great camp heater to provide warmth in outdoor spaces.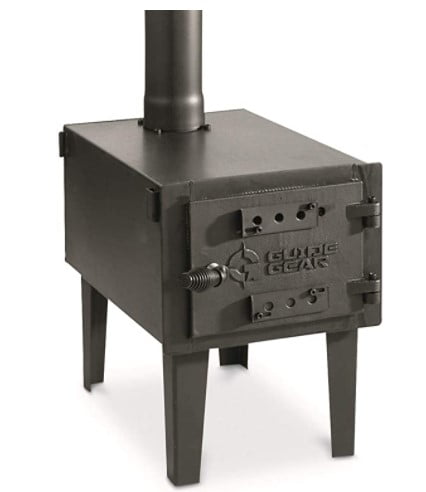 Features:
Wood, Cast Iron, Ash
Vented
Durable
Gstove Heat is designed for the experienced outdoor that needs low weight and more room for wood and longer burn time to keep you warm the cold nights.
During heat editions, removed the integrated cooking stove that Gstove Cooking offers to make room for more and larger wood. If you have a larger tent, this is the stove for you.
Gstove tent stoves are universal stoves that fit all tents and can be upgraded both in effect and use.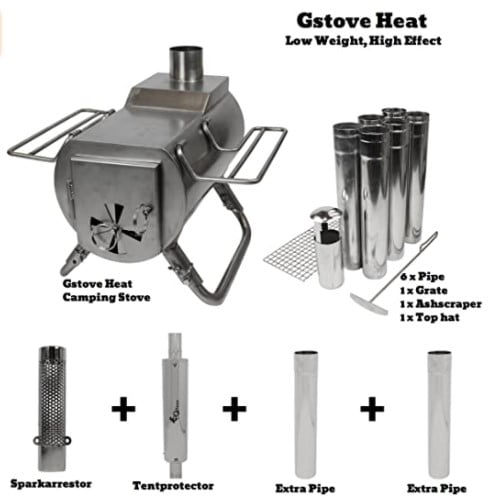 Features:
Low Weight
High Effect
Low wood Consumption
Named after the sixth highest peak of the Rocky Mountains, the Uncompahgre Pack Stove provides welcome heat when it's freezing outside.
The compact collapsible design sets up and folds down in less than a minute and folds to a compact 23″ L x 11″ W x 2.25″ H for easy packing in a pannier.
Don't let it fool you; this stove is sturdy and robust and will last for many years.
Features:
Alloy Steel
Durable
Collapsible
With the stove ready, you need another utensil that will make a camping trip so much easier, on top of our heads, we think a knife, axe, shower, heater, and popup tent, why not an air conditioner in case the camping trip is in warn weather and a generator, do you know how to make a generator quiet for camping.