Thinking about disconnecting and going for a relaxing camping trip? We hear you! Preparation is key when taking a camping trip; after all, you want to spend some time away from all the 'noise' but still be prepared for any eventuality. You may want to make sure you have the proper camping gear, including a camping axe. That is why today we'll be sharing with you everything you need to know about some of the best camping axe and more.
It is no secret that camping requires special equipment. An axe is the perfect caping tool; it can help you in numerous tasks such as splitting firewood, trimming branches, and other precision tasks. An axe is also easy to carry and won't take much space, as you enjoy your adventure in the great outdoors. In other words, if you want to make sure you have everything you need to enjoy your camping experience, then you want to bring along a camping axe.
Whether you are an experienced camper or your first time buying this type of equipment, doing some research is always the smartest route, as you'll want to consider a few things before making any investments. With lots of options in the market, it might seem a bit of a task knowing what would be a good choice. Keep reading and get to know some of the best camping axe options around.
Best Camping Axe FAQ's
What is a camping axe?
Camping axes are also known as hand axes. They are usually small, lightweight, and portable. This makes them versatile for use in a camping scenario where you may need to trim branches, split wood into kindling, and chop firewood. A camping axe can also be used as a hammer or a mallet. They are not designed for felling trees or chopping large wood.
How is an axe different from a hatchet?
Hatchets are usually smaller, more lightweight, and more portable than axes. Their shafts are shorter. Their heads are narrower with a large cutting blade than axes with a larger head that doesn't taper to the blade.
Some hatchets have a hammerhead on the backside of the head, whereas true axes will only ever have a blade; they are not designed for hammering.
What are axe heads made of?
Most axe heads are made of steel. Some are stainless steel, and others are hand-forged Swedish steel.
How heavy should a camp axe be?
A good camp axe should be as heavy as comfortable but not too heavy to be used to make kindling. The best camp axe head weighs between 1.5 to 2.25 pounds because this weight and size require little lifting effort and little downward swing effort.
What size Axe do I need for camping?
Go with a shorter axe, always less than 2ft long for camping. An axe that is 18-21 inches has enough power and capability to be used in many valuable ways. If you need less power and need something to get the job done to split kindling, then look for a hatchet or haft lengths of around 12″.
What to keep in mind when buying the best camping axe?
Quality of Build
The materials and construction of your camp axe or hatchet must be high quality. Look for stainless steel, a solid shaft that's long enough to give leverage and sturdy enough to avoid stunning your hand and arm, a sticky grip, and a good balance in weight between head and shaft.
Hand Forging
Most hand-forged axes also come with hand-carved handles and many people argue that the quality of the whole product is much greater than that of axes pumped straight off the production line.
Portability and Weight
Certain axes offer a more streamlined and lightweight solution that might sacrifice chopping power. Whereas weightier models might be better suited to the aforementioned sequoia than simply trimming a few finger-wide scraps of deadwood. If the weight of your camp axe is mainly in the head, this will give you greater power and control when chopping.
The Grip
A good grip will ensure your hand doesn't slip when swinging and could potentially save you a few toes. When it comes to the handle material, you get options such as traditional wooden style, plastic, fibreglass, nylon, rubber, and leather. Hickory wood and ash are the best choices to go for if you are for the old-timey wooden handle.
Efficiency
The blade's efficiency mainly comes down to the material used, but its width is also important. With both the blade and the 'bit,' too much width will make trimming branches tricky. If, however, these sections are overly skinny, in all likelihood, the Axe will wedge and get stuck if swung into larger logs.
Best Camping Axe
This light but a heavy-duty camp axe, and survival hatchet also serve as a handy backpacking axe; the hand axe includes a textured GRN handle for comfortable use.
Wood chopping axe can also be used as a hammer axe; the hatchet is always ready for outdoor wood splitting, pounding tent stakes, and tinder breakdown.
This small Axe and hiking hatchet is lightweight and easy to carry; the hand axe with sheath is a portable outdoor tool featuring glass-reinforced nylon to safely protect the blade.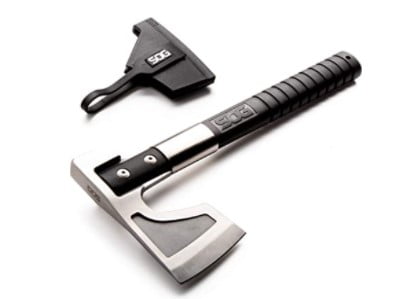 Features:
3.1 Inches
1 Pound
Stainless Steel
Schrade Survival Hatchet has a titanium coated stainless-steel head with a hammer pommel. Its black glass fibre filled PA handle comes with an ergonomic black TPR rubber grip.
Also features an extra-large Ferro rod with a lanyard that stores inside the handle and a thermoplastic belt sheath.
The axe head is sharp and strategically shaped to ensure thorough contact to prevent from overworking the user. The thermoplastic rubber handle is shaped to fit comfortably in the hand to ensure solid and balanced contact when in use.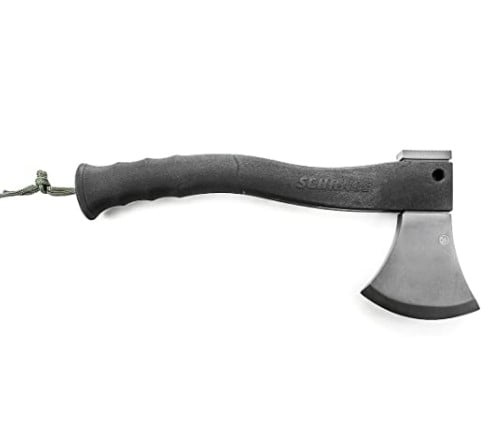 Features:
Textured Hammer Pommel
Glass Fiber Filled PA Handle
Lightweight
This M48 Survival Rescue Axe is the ultimate tactical tool. It is lightweight to be carried all day without added muscle fatigue.
The blade of the M48 Axe offers a wide, upswept axe blade with a piercing spike on the back end. This lightweight Axe features a precision cast 2cr13 stainless steel blade.
This is a lightweight defensive tool with an appealing fit and finish. Ideal for easy one-handed use when splitting small logs.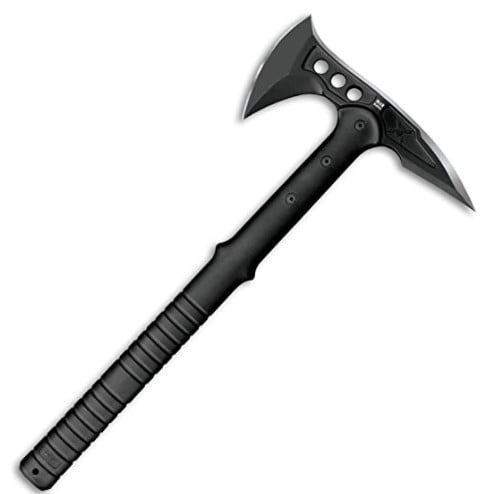 Features:
Stainless Steel Blade
30% Fibreglass Nylon Handle
15″ Overall Length
Perfect as a secondary axe for quick jobs, the X11 is designed for easy one-handed use when splitting small logs. Like every X-Series Hatchet or Axe, the X11 combines perfected weight distribution, advanced blade geometry, an ultra-sharp edge and virtually unbreakable design to maximize your performance.
This combination of features allows the blade to disperse wood more effectively, offering more one-strike splits with each swing. Since you can split wood more easily with the X11, each job requires less time, less effort and less hand strain.
Unlike traditional axes that can be heavy, quick to dull and easy to break, X-Series axes combine perfected weight distribution, advanced blade geometry, an ultra-sharp edge and virtually unbreakable design to maximize your performance.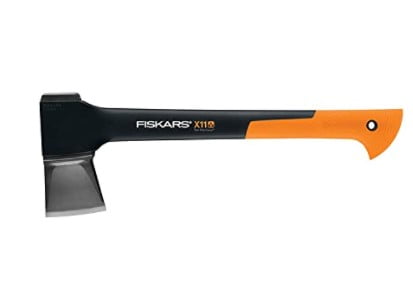 Features:
Shock-absorbing FiberComp Handle
Lightweight
Forged Steel Blade
Made from quality materials. 3CR13 textured black and satin finish stainless steel fine edge axe blade provides an excellent balance of hardness and corrosion resistance.
Combines traditional and non-traditional materials to create handsome and, unique, combinations that redefine the category.
Provides consistent razor-sharp cutting performance and high durability. A knife you can count on for camping, hiking, backpacking, hunting & fishing, the outdoors, military & tactical needs, DIY activities, survival, self-defence, and emergencies.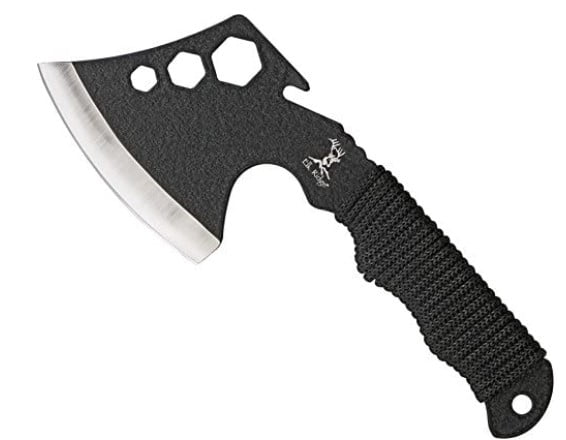 Features:
Stainless Steel
Black Cord Wrapped Handle
Corrosion Resistant
Durable
Estwing's world famous Sportsman's Axe is the choice of outdoorsmen everywhere. Both the head and handle of the Axe are forged in one 1-piece and hand-polished to a beautiful finish.
This classic Axe offers unsurpassed balance and temper. Its genuine leather handle is sanded and lacquered for a durable yet comfortable feel.
It has a tempered 3-1/4 in. cutting edge for easy cutting. A must for all campers and outdoorsmen alike! Estwing Axes are proudly forged in the USA using the finest American steel.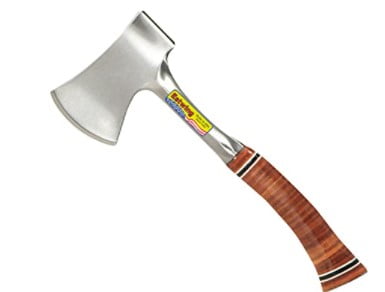 Features:
Genuine Leather Grip
Forged Steel Construction
Versatile
The MTech USA Camping Axe with a two-tone blade features a black rubberized handle with an 11-inch overall length.
Compact and easily portable, this tactical Axe is perfect for camping enthusiasts or anyone who spends time outdoors.
This Axe features a 3-inch satin finished 440 stainless steel blade. The durable rubber handle offers a comfortable grip and is built to withstand long term repeated use.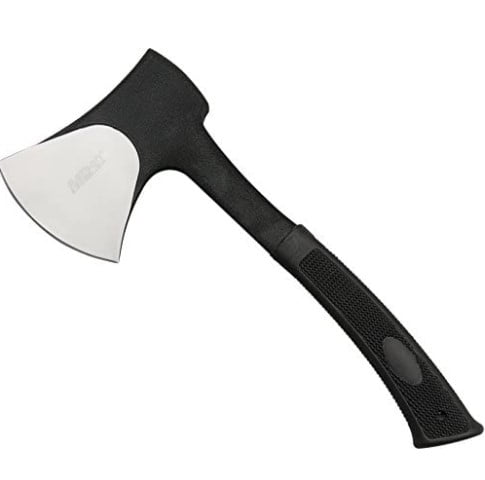 Features:
Compact
Stainless Steel Blade
Durable Rubber Handle