Are you planning your next camping trip? We hear you! When going camping, planning and preparation are key; after all, you want to spend some time away and 'disconnect' but still have the peace of mind you have everything you need to feel as comfortable as possible. That said, you may want to make sure you have the proper camping gear, which should include the best tent heater. That is why today, we'll be sharing with you some of the best tent heaters currently available in the market.
As you enjoy the wild for a few days, that doesn't mean you have to sacrifice comfort entirely. A tent heater is an absolute necessity when camping under low temperatures. It is an essential part of your camping gear, providing a perfect warm shelter.
Whether you are an experienced camper or it is your first time buying this type of equipment, doing some research is always the smartest thing to do, as you'll want to consider a few things before making any investments. But with numerous brands and models in the market, it might seem challenging to know what would be a suitable choice. Keep reading and get to know some of the best tent heater options.
Best Tent Heater FAQ's
What is a tent heater?
A camping heater is a portable heater purpose-built to take on a camping trip. Heaters come in a wide array of shapes and sizes. Each one is made with different materials, fuel sources, and safety features.
Why do you need a tent heater?
Utilizing a tent heater mitigates the need for packing as many heavy layers of clothes and a bulkier low-temp-rated sleeping bag, lightening and lessening your cold-weather camping loadout.
Portable heaters allow campers to extend their camping season, rather than having to hang it up once the snowfall starts.
Is it safe to put a heater in a tent?
Safety is the most crucial aspect of choosing your camping heater. Some heaters have safety features such as cool outer housing, turning off automatically if they overheat, and a tip-over switch. Sleep in comfort, knowing that your tent is not only warm, but you and your family are safe. Always make sure they are stable; the bigger the base, the better.
What are the types of tent heaters?
The two primary types are gas heaters and electric heaters.
Gas heaters run off readily-accessible and affordable fuels like butane, kerosene, and the most popular: propane. This means carrying extra fuel is as easy as grabbing a spare canister or bottle. Gas heaters should only be used in well-ventilated areas and not inside tents. Even then, extra precautions are needed to give the heater enough space so naked flames cannot get near the heater, a stable base, and the addition of a carbon monoxide alarm for your safety.
Electric heaters require an outlet which is an obvious downside as it requires a generator, though there are also batteries, though they're often on the heavier side. However, unlike their gas-powered counterparts, battery-operated heaters can be juiced-up via solar power, making them ideal for off-the-grid applications, especially for situations such as desert camping where the days are warm and sunny and the nights are absolutely frigid.
How many BTUs should I look for in a tent heater?
For cold weather camping in 20 degrees Fahrenheit or above, opt for a heater with at least 2,500 to 5,000 BTUs or more.
Is it safe to have a gas heater in a tent?
Gas heaters should only be used in well-ventilated areas and not inside tents. Even then, extra precautions are needed to give the heater enough space so naked flames cannot get near the heater, a stable base, and the addition of a carbon monoxide alarm for your safety.
What features to look for when choosing the best tent heater?
Heating output: The last thing you want is your heater tripping the hook-up supply, so make sure it's below 2000 Watts and remember the higher the output, the fewer other items you can use at the same time.
Adjustable: Depending on how cold the weather is, it might change how warm you'd like your heater. Look out for a heater that has thermostatic control so you can set the temperature you are comfortable with.
Size: Consider the size of your camping unit, as well as the amount of space the heater would take up. A small, compact heater will also be easier to pack in the car and transport on your holiday.
Dual-purpose: As well as heating the air in the winter, blowing around unheated air is very handy in the warmer months.
Safety: Look for models with a bigger base, making them more stable. Look for heaters with safety features, such as a tip-over switch or cool outer housing. Always keep a tent heater upright, at least 3 feet from flammable surfaces, and as directed in the user manual.
Noise level: As a general rule, electric heaters operate more quietly than gas models. Propane and butane heaters are made up of various moving parts to produce heat, creating a loud humming sound while in use.
How do you safely heat a tent without a tent heater in cold weather?
Hot water bottles: These cheap and simple bottles can make all the difference in getting a good night's sleep. Add a flask to keep some water warm to transfer if you get cold, and suddenly you have a personal heater.
Rechargeable Heat Pod: Similar to a hot water bottle, the rechargeable heat pod is a safer and more convenient way of keeping warm for longer. Charging in just 5 minutes, this pod doesn't require hot water and consequently removes the risk of leaks and scalding.
Electric blanket: Use to warm up chairs or a bed; when it's bedtime, either remove to warm another bed or switch off and unplug – you'll be surprised how hot you get.
Patio heater: Patio heaters can be safely hung up, ensuring an able air gap between the heater and the tent material and will help warm a large tent quickly; it also gives off a pleasant light.
Best Tent Heater
This patented radiant 4,000-9,000 BTU Liquid Propane heater connects directly to a one lb. cylinder and is the perfect solution for heating enclosed spaces like large tents up to 200 sq. ft.
The expertly engineered size to BTU ratio is augmented with a fold-down handle, giving this heater maximum output while retaining a minimalistic footprint.
A swivel regulator gives you the ability to adapt usage from a disposable cylinder to a remote gas supply by purchasing a hose and filter. To light the unit, simply rotate the knob to pilot and push. Then the integrated Piezo sparking mechanism will take care of the rest.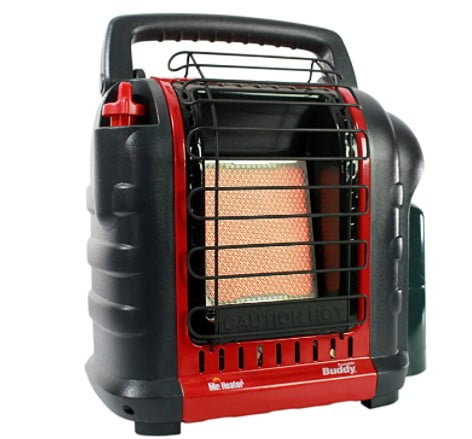 Features:
Propane
Fold-down Handle
Swivel-out Regulator
This small space heater is made from fire-retardant materials; The ceramic heater has a self-regulating element and automatic overheating protection for added safety.
Tip-Over Protection will shut off the room heater if it accidentally gets knocked over to avoid accidents. It will automatically shut off if the temperature exceeds the limit value and back to work once it gets to a safe temperature inside.
Features a temperature range of 41 °F-95 °F; rotate the thermostat control dial to lower the temperature once the room is warm; this ceramic heater will greatly reduce power consumption.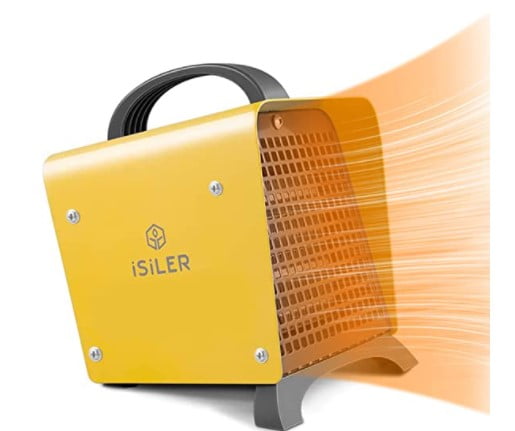 Features:
Adjustable Thermostat Control
Corded Electric
Forced Air, Convection
Take the load off on your next outdoor adventure and use our portable Campy Gear 2-in-1 Heater & Stove! Cook meals during the day and stay warm at night with just the click of a button.
With a max output of up to 9,000 BTU and a unique 360° radiant heating design, our compact heater will keep you and your family warm during cold winter days/nights. Stay warm and enjoy the outdoors!
The heater & stove is equipped with adjustable flame control to satisfy various cooking purposes and a sturdy stand that supports up to 12 inches pans and pots.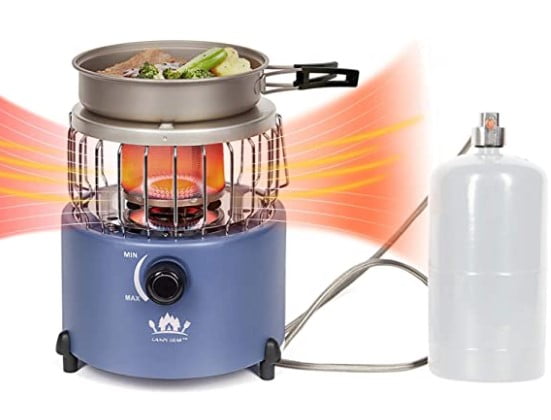 Features:
Propane Heater & Stove
Gas Powered
Dual Function
If you think you may need another type of stove, you should really check out everything you need to know about the best wall tent stove.
With Velocity Tuned Heat, the Velocity 3R delivers hotter heat than ever before. Its specially tuned aerodynamics moves more air faster and farther while producing slightly more sound, about 10 decibels more, than a traditional Vornado heater.
Advanced safety features include a cool-touch case, tip-over protection, and an automatic safety shutoff system for worry-free use.
An adjustable thermostat allows you to select your desired comfort level. PowerCord Plug Type: 2-Pin Polarized.
Features:
Forced Air
Adjustable Thermostat
Advanced Safety Features
Continuous odor-free, 45-degree heating angle. Maximum Elevation (Ft) 7000 Feet. Automatic low oxygen shutoff system (ODS). Perfect solution for heating small enclosed spaces like tents up to 95 square feet.
Mr. Heater offers the latest evolution in portable heating with the Portable Little Buddy Propane Heater. Use it in garages, tents, workshops, cabins, porches, patios, or hunting blinds to heat up to 95 sq. ft.
Equipped with a low-oxygen shutoff pilot system and accidental tip-over shutoff for indoor safety and one heat setting of 3,800 BTU/hr.; allowing you to control comfort level. Accidental tip-over safety shutoff. Lightweight, easy to carry.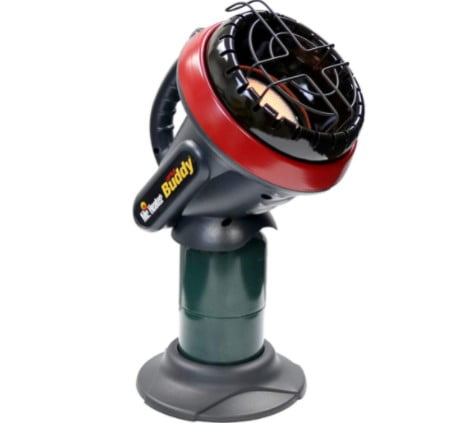 Features:
Propane Heater
Easy to Use
Low-oxygen Sensor
This portable propane tank top heater generates heat anywhere and gives you a warm environment in the colder winter months.
It is ideal for airy areas and outdoor activities such as camping, hunting, fishing, or sporting events. Three different heat levels can be adjusted, and you can easily change the heat as needed.
It produces 15,000 BTUs for rapid heating, achieving a heating area of 400 sq. ft. It heats up to a 15 ft. radius and keeps you warm at all times.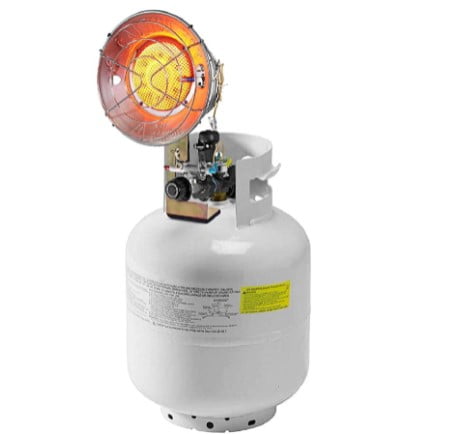 Features:
Propane
Excellent Heating Effect
Sturdy Structure