Are you thinking about disconnecting and going on a relaxing camping trip? We hear you! Preparation is key when taking a camping trip; after all, you want to spend some time away from all the 'noise' but still be as comfortable as possible. That said, you may want to make sure you have the proper camping gear, which should include a portable air conditioner. You are probably wondering how to air condition a tent? That is why today we'll be sharing with you everything you need to know about the best portable air conditioner for tents.
While exploring the outdoors can be very relaxing, sometimes the sun can be a bit too much, and we all know tents tend to get very hot; that's when you start thinking about how to air condition a tent. Whether you are an experienced camper or your first time buying this type of equipment, doing some research is always the smartest route, as you'll want to consider a few things before making any investments.
A portable air conditioner for tents should solve your problem with air condition a tent. It will provide the perfect cooling shelter for you and your crew. If you want to make sure you have everything you need to enjoy your camping experience, you may want to learn how to air condition a tent properly. Keep reading and get to know some of the best ways to air condition a tent.
How to Air Condition a Tent FAQ's
Is there an air conditioner for tent camping?
Yes. You can carry with you on a camping trip is a portable air conditioner for tents. It's a convenient and cheap cooling solution that will keep you comfortable in hot weather.
Can you put a portable air conditioner in a tent?
If you have an AC port in the tent, it is advised to use a window AC and stand. If there is no AC port or flap, then a portable air conditioner can be a good choice. You'll have to run the exhaust hose out the door flap, and that might be inconvenient.
How do you insulate a summer tent?
The tents used for summer camping generally include a mesh roof for airflow. To insulate the outer side of your tent, you need to cover the roof with a reflective tarp, even if the tent has a rainfly. Now not any tarp will do the job; you'll have to use a reflective tarp.
How to cool down a tent without AC?
Tent Location: Pitch your tent in a location out of direct sunlight during the hottest times of the day. This is good advice whether you are using a camping tent, event tent, or a party tent.
Choose the Right Color Tent: Believe it or not, the color of your tent will dictate how much heat it absorbs. You can effectively help keep your tent cool by choosing a bright and preferably white tent.
Tent Material: The material of your tent can play a large role in how much heat it lets in and its insulating capabilities. Canvas tents provide excellent insulation, helping to keep the cold air inside the tent and the hot summer air out.
Use a Tarp: Tents are not well-insulated, so a lot of the cold air escapes the tent when using an air conditioning unit. You can help trap some of that cold air in and keep the warm air out by placing a tarp over the top of your tent, and then the rain flies over the top of that.
Are there battery-powered air conditioners for camping?
Yes, there are battery-operated air conditioners that you can use when tent camping. Battery-powered air conditioners come in several types: rechargeable, USB powered, and 12v battery-powered car units.
What are the types of air conditioners for tents?
You can pick between:
Personal or large evaporative coolers
Portable air conditioners
Genuine air conditioners, including window air conditioners on a stand made for tent use
Cordless or battery-powered AC units.
How to Air Condition a Tent
Method #1: Portable AC Unit
What you need:
Tent with an AC port
Portable AC Unit
Power Source
Use as an Air Conditioner, Fan, and Dehumidifier with built-in continuous drain design and effective cooling for spaces up to 200 square feet. It includes washable dust filters to trap dirt and debris before they build up, improving indoor air quality and the life of the AC unit.
Adjust between two fan speeds, save energy with Sleep Mode, and program times of use or shutoff with the automatic on/off timer for up to 24-hours.
Portable AC unit perfect for single-room cooling, including bedroom, apartment, college dorm room, garage, and more. Move the free-standing air conditioner from room to room with four easy mobility caster wheels.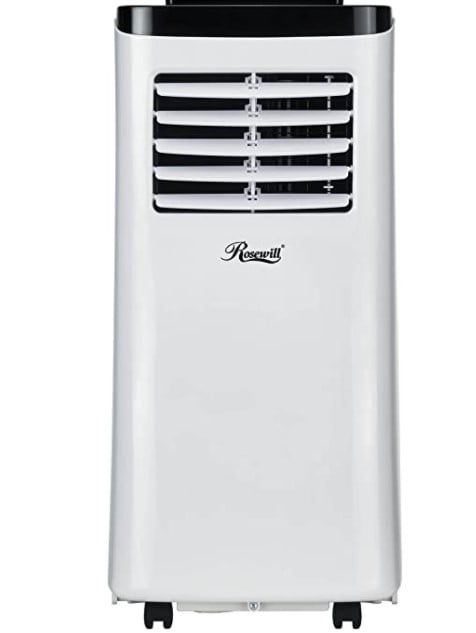 Features:
Remote Control
Cool/Fan/Dehumidify
Corded Electric
The Mark 2 air conditioner is only 16.5lb, and with its compact and portable design, it can be easily placed even on the car's armrest case, giving you more ease and freedom in the tight RV/Van space.
The Zero Breeze Mark 2 is designed to move freely and not have to be fixed, allowing proximity to cooling targets allowing cooling to be done quickly and efficiently.
MARK 2 air conditioner has only 240W power consumption and uses at least 4* 100W solar panels.
Features:
Continuous Running
Easily Placed Anywhere
Low Power Consumption
Directions:
Pitch your tent on a flat level surface that is preferably out of direct sunlight (this will help keep your tent cool with or without an AC unit).
Place the portable AC unit inside your tent.
Run the duct hose from the AC unit to either a port that leads to the outside of the tent, or you can use any opening.
Plug the AC unit into the electrical power source and turn the unit on.
Method #2: Window AC Unit
What you need:
Tent with an AC port
Window air conditioner
Adjustable stand to set the AC unit on
Electrical source
The Ozark Trail 12 Person Instant Cabin Tent sets up in under two minutes! This 12-person tent requires no assembly because the poles are pre-attached to the tent; unfold and extend.
This three-room, cabin-style tent has large windows on all sides and room to stand up. It features a large front awning for relaxing under the shade. In addition, it comfortably fits three queen airbeds or up to 12 campers in sleeping bags on the floor.
Two internal room dividers allow you to create separate sleeping and living spaces. Keep cool with the oversized ground vent that also fits an air conditioner.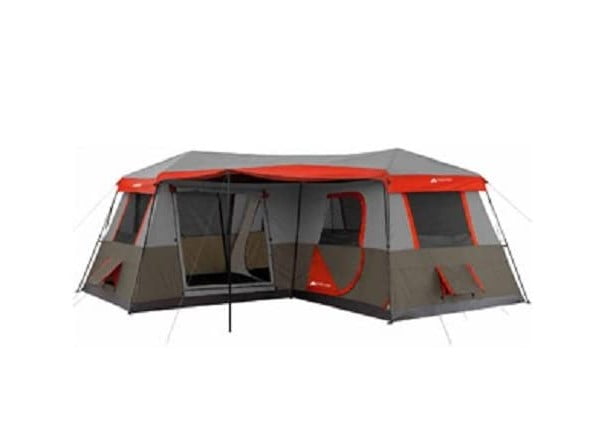 Features:
Polyester
It fits three queen airbeds
7 Closeable Windows
This air conditioner maintains the preset room temperature so that you will remain comfortable at all times.
It captures dust from the air and keeps your dehumidifier working efficiently with our easy-to-clean washable filter.
With the Adjustable Side Panels, the side panels will extend to best fit your window. It comes with an extra-long three-prong cord, which makes extension cords unnecessary.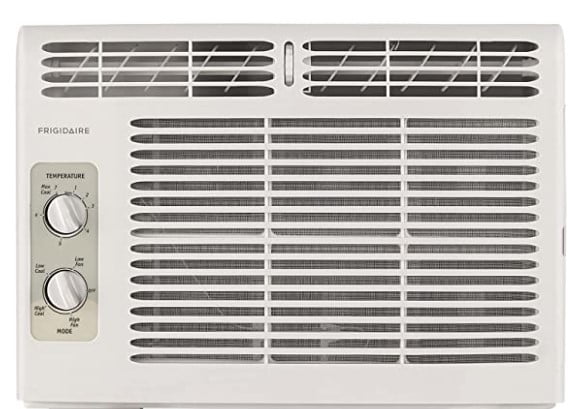 Features:
Corded Electric
Easy-to-Clean
Adjustable Design
Camco's aluminum platform step measures 19 x 14. 5-inches and provides up to 9-inches of additional height.
Constructed of solid and sturdy aluminum, it supports up to 1 000 lb. The legs fold out quickly and snap securely into place.
Non-slip rubber feet, as well as grip tape, provide a secure step. The step's legs fold in for compact storage and easy transport. Storage height is 3-inches.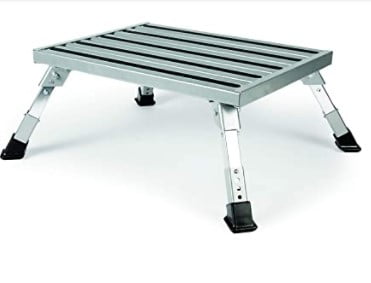 Features:
Aluminum
Maximum Support
Durable Construction
Directions:
Pitch your tent on a flat level surface that is preferably out of direct sunlight (this will help keep your tent cool with or without an AC unit).
Set your adjustable stand on the ground next to the AC port and adjust the height, so the top of the stand is level with the bottom of the port.
Set your window AC unit on the stand and attach it to the tent manufacturer's directions to the port.
Plug the camping AC unit into the electrical power source and turn it on.