Are you thinking about disconnecting and going on a relaxing camping trip? We hear you! Preparation is critical when taking a camping trip; after all, you want to spend some time away from all the 'noise' but still be prepared for anything and everything. That said, you may want to make sure you have the proper camping gear, which of course, includes the best camping knife. That is why today, we'll be sharing with you everything you need to know about some of the best camping knives and more.
It is no secret that camping requires special equipment. A camping knife is the perfect caping tool; it can help you in numerous tasks such as coals for starting fires or sticks to make cooking implements like skewers and roasting forks. It will make the process of preparing your food much more manageable. In a few words, a blade is an essential tool in the wilderness.
Whether you are an experienced camper or it is your first time buying this type of equipment, doing some research is always the smartest route, as you'll want to consider a few things before making any investments. With lots of options in the market, it might seem a bit of a task knowing what would be a good choice. Keep reading and get to know some of the best camping knife options around.
Best Camping Knife FAQs
What is a camping knife?
A camp knife is simply an all-purpose knife built bigger and heavier than a standard hunting knife. It should be unbreakable and should be able to double as a hatchet or a machete. A proper camp knife should have a blade no shorter than 8 inches and no longer than 10.
What can I use a camping knife for?
Camping knives can be used for a variety of different tasks. It is a trusty tool for campsite activities like splitting kindling, assisting with food preparation, fire starting and maintenance, whittling tent stakes, wooden figurines, or a marshmallow roasting stick.
A camping knife is a great accessory to help you and your family enjoy the outdoor season. Whether you're looking to split kindling, prep food, hunt, or something else, these knives are versatile and invaluable.
What are the types of camping knives available?
Fixed Blade: Quality fixed-blade knives are stronger and more durable than folding knives. A good full-tang fixed blade knife (where the blade's steel extends all the way to the end of the handle) is a simple and virtually indestructible tool, ideal for heavy-duty or survival usage.
Folding: Compact, easy-to-carry, and lightweight, folding knives have the benefit of being able to slip into your pocket for easy access. Although fixed-blade knives are generally easier to use for food prep and more stable for heavy-duty camp tasks, there's a lot to be said for the convenience of a good folding knife.
What are the types of camping knives' blade points?
Drop-point blades are a good compromise between strength and utility, but it's also worth considering sheepsfoot blades. They're both strong, solid shapes that can withstand huge amounts of abuse.
The sheepsfoot profile lowers the risk of you stabbing yourself and is often used for woodcutting work, as well as in dedicated watersport knives designed to cut a rope.
Clip-point has a crescent drop at the top of the blade to allow for more precision. It might not be as strong as a drop-point blade, but it's worth considering if you need a blade for more delicate work.
How to choose the best camping knife?
Material
Most knives are made from steel, but the market is filled with hundreds of varieties, each with its own unique characteristics. It's beyond the scope of this article to describe all the varieties, but it's worth taking a minute to research a steel type to see if its qualities suit your needs and usage.
Blade Coating
Some blades have a coating over the steel. This hardened material protects the blade, increases durability, and adds visual appeal to the knives.
However, coatings make it impossible to use the spine of the blade on a fire starter, forcing the use of the blade itself if no other striker is available.
Fire-Starting Ability
Pretty much every knife can spark a fire on a ferrocerium rod, but some are a lot better at it than others. Some knives have special edges carved into their spine precisely to strike a spark. You may have to use the blade with others, especially knives with a coating. This can damage the blade if done too often.
Tang
Half- or quarter-tang knives are fine for most camp tasks, and if they're well made, they can be very stable.
Full-tang knives offer much greater stability and durability for heavy-duty tasks. You may also see "rattail tang" or "stick-tang" knives, which means that the blade's steel narrows to about a centimeter in width and extends the length of the handle.
Best Camping Knife
The rat Series features 1095 carbon steel, tough Micarta handles, and MOLLE compatible sheathes.
RAT folders are known for quick and easy access with the convenient and removable pocket clip along with a thumb stud flipper, making them ideal for everyday carry.
The RAT folders come equipped with a blade made of reliable AUS-8 Stainless Steel and a textured Nylon-6 handle for a firm, secure grip.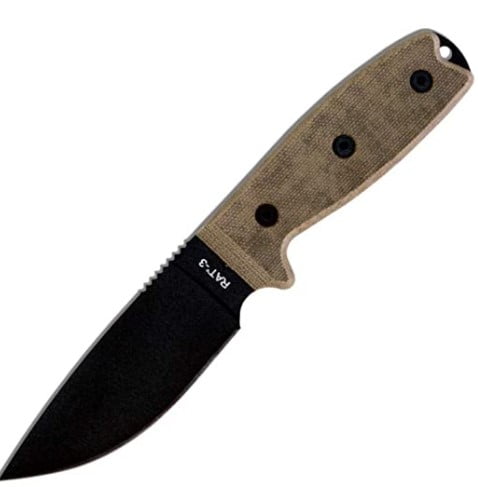 Features:
Knife with Sheath
Carbon Steel
Flat Blade
The high carbon steel 1/8-inch (3.2 mm) thick blade is exceptionally sharp, durable, and is hardened to HRC 56-58 to withstand stress on the blade better when batoning. The black coating helps protect against corrosion. For further corrosion resistance, oil carbon blades after each use.
The Bushcraft Survival has a Scandi grind that prevents the knife from slipping off easily, bites into the surface without getting stuck in razor-sharp, and stays sharp for a long time.
The blade is relatively thin, making it easier to carve yet robust enough for batoning and other demanding outdoor activities.
Features:
Rubber, Plastic Handle
Carbon Steel Blade
Integrated Fire Starter
Simply put, the performance, durability, and quality of the ESEE-4 are unmatched by any other knife in its category.
ESEE carbon steel knives are made from 1095 steel. 1095 is a top choice for professional cutlery designed for hard use; it will rust and stain if not properly cared for, especially on the cutting edge and around the laser engraving.
If you're an outdoorsman, law enforcement, soldier, or simply like to collect quality, hard-use knives, then you can't go wrong with an ESEE-4.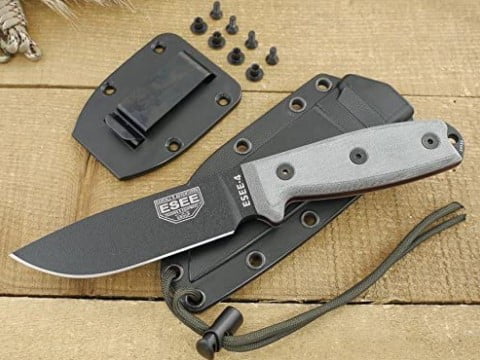 Features:
High Carbon Steel Blade
Lightweight
Grey Linen Micarta Handle
Drop Point Blade
Built from start to finish in the USA, the Filson Skinner Fixed-Blade Knife is designed for hunting with a fixed 2-3/8″ hollow-ground drop point blade made from 440M steel and a durable linen micarta handle. Includes a leather sheath.
Built from start to finish in the USA, including heat-treating the blade steel, grinding and assembling, and hand-finishing to ensure the highest quality.
It is made with 440M blade steel for corrosion resistance, edge retention, and ease of sharpening.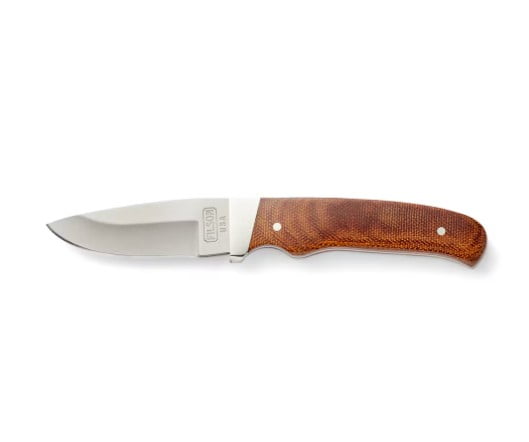 Features:
2-3/8″ Drop Point Blade
Hollow-ground Blade
Field, Hunting, Outdoor Use
Made for salty environments and featuring a wide blade, high handle, and knuckle clearance, this is the only catch and cook knife you need to bring along on your next outdoor adventure.
It works great for cutting bait, cleaning and scoring fish, and slicing and dicing your morning meal. It is made with LC200N/Z-FiNit, phenomenal steel that is preferred in salty or wet climates.
The compact size allows you to take it anywhere – it travels well on your pack, belt, or bib. LC200N/Z-FiNit steel is nitrogen-based steel that has extreme corrosion resistance.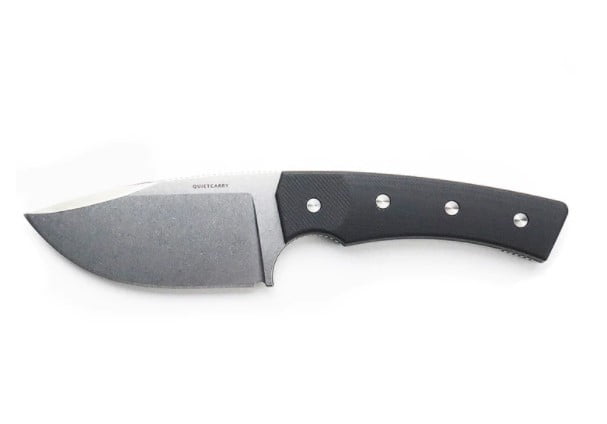 Features:
Small & Compact
Deep Notch & Wide Blade
3 inches Blad Lenght
The Nautilus Alpha is an all-purpose solid one-piece fixed blade knife design, dialed towards maritime use conditions.
Sitting at a mid-size OAL of 8.50″, the Nautilus Alpha is a performer in, around, and under salt or freshwater environments. A unique, modern industrial casting process forms our specially formulated, rust-proof alloy blades.
Rust-proof, stout, with a 3D contoured handle specially coated in a textured-colored epoxy, and excellent edge retention. A unique, modern industrial casting process forms our specially formulated, rust-proof alloy blades.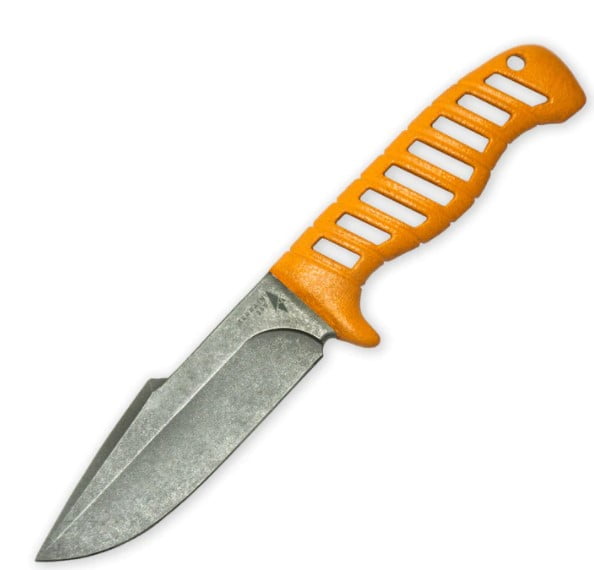 Features:
All-Purpose
Rust-proof
Oven Cured
Razor Sharp Clip-Point Blade – 3-3/4″ 420HC stainless steel clip blade has excellent strength edge retention and is corrosion-resistant.
The Clip blade has a very sharp controllable point and is suitable for detail work, piercing, and slicing.
Easy to open with a nail notch on the blade. The lock-back mechanism locks the blade open for reliable strength and safety while you work. Closed Length 4-7/8″ Weight 7.2 oz.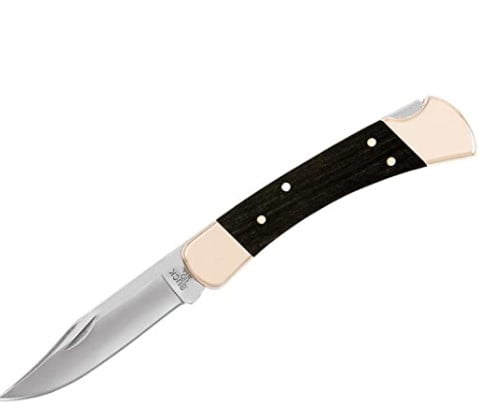 Features:
Ebony Wood Handle
High Carbon Stainless Steel Blade
Strength & Safety